Three weeks ago I was busy making caramels, wrapping last-minute Christmas gifts, and waxing nostalgic about Christmases years ago, when my family would pack up and head to Memphis for our annual Christmas gathering. I truly miss Christmas in Memphis, all of us under one roof for a few precious hours. I jump at any chance to spend time with my cousins and their beautiful children nowadays. The chance at sweater weather makes it all the sweeter.
The past few years have been the beginning of new traditions, though; traditions that are bound to change as the shape of our family eventually changes. We've paved a backwards checkmark across the US for the past few years, visiting West Palm Beach, then Pueblo, then West Palm again before driving home New Years day. This year, the plan was no different. But the story always changes, even when the plan is the same. Doesn't it seem that way?

Christmas in West Palm was warm and familiar. We shared a smoked turkey and cranberry sauce, stuffing and Papa's famous mashed potatoes. I received more than I could have wished for; an All-Clad pasta pot, The Fat Duck Cookbook, and a pair of TOMS shoes, to name a few.
By the time we made it to Pueblo, we had probably eaten enough calories to last us 'till New Years, but we didn't let that stop us. We turned a vegetarian Shepherd's Pie into a more standard Shepherd's Pie using the beef raised on a family farm in Oklahoma. We followed that with a few helpings of Vance's grandmother's potato-free gnocchi and at least two bean burritos bathed in organic green chili. We learned about baking at altitude, putting the *expletives* back in Cranberry Cake. By the time a week had past, I was so glad to have come and refreshed my sensory memory with the flavors of Colorado, but ready to be back at home as well, curled up with Chester and a glass of wine.

New Years Eve is always an interesting time to fly; people crowd the bars to get a peek at all of the college bowl games that are going on, flights are more scarce but fully-packed, and everyone just wants to be home before the clock rings 12. We boarded a tiny jet from Denver to Memphis, four seats across, and I held out hope that we'd be "bumped" off our second flight and score a free stay in Tennessee with a free plane ticket for later. About the last hour of our flight, the pilot came over the loudspeaker and informed us that there were severe thunderstorms in the area — we'd be flying through Arkansas and coming up from the south to land in Memphis. And we'd be landing about an hour late, as oh-by-the-way we've been stalling for a while.

[caption id="attachment_575" align="aligncenter" width="545" caption="Outside the gate, waiting to hear from Delta what the status of our flight home was."]

[/caption]
At that point we were close to missing our connection to Ft. Lauderdale, but seeing how the plane was shaking us through the thunder like a bartender mixing cocktails at a bachelorette party, I didn't much care about that detail. By the time we neared Memphis and I could make out the model names of the cars on the highway, the lightning was becoming more frequent. I felt like the plane was surrounded by so many angel paparazzi, snapping pictures of the middle aged men sleeping through this nightmare with their mouths agape.
My cousin Jenni was nice enough to come to our rescue when our connection was rescheduled for some unknown future hour (not what I meant by getting bumped, by the way!), and we spent the evening polishing off a bottle of wine and munching on the nuts and snacks my aunt and uncle had left out on their counter. After an hour or two, my aunt and uncle were home and we stayed up sharing stories until the wee hours. Even though we didn't have clean clothes or our toiletries, it was a thousand times better than taking off for Fort Lauderdale in a thunderstorm, ringing in the new year at 5,000 feet.
[caption id="attachment_577" align="aligncenter" width="545" caption="I had to include a photo of the recipe, didn't I?"]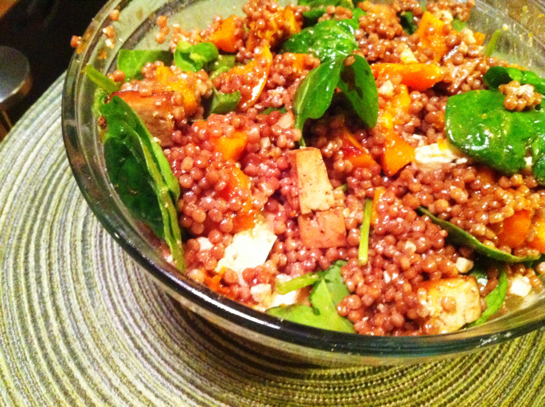 [/caption]
When we returned to Winter Park and the daily grind two days later, the first thing I set my mind to was a recipe for a grain salad with a hint of winter comfort and a helping of nutrition. It's healthy yet satisfying, and a great way to keep your New Years resolution at least one more day.
Whole Wheat Couscous, Squash, and Tofu Goodness Salad
This is a very forgiving recipe — feel free to substitute your favorite tofu or chicken, and your favorite vinegars.
Serves 4-5 as a main dish, 8-10 as a side.
Ingredients
1 small butternut squash (about 2 lb.), cut into 1-inch cubes
2 tsp Cabernet or red wine vinegar
4.5 tbsp olive oil, divided
2 cups dry whole wheat couscous, cooked to package directions (with salt and olive oil, if desired)
½ cup balsamic vinegar
1 package of savory baked tofu (8 oz), cubed into 3/4-inch pieces
&frad12; tsp sugar
2 tsp salt
8 oz feta cheese, crumbled into large chunks
2 cups spinach, loosely packed
Preparation
Preheat oven to 400°F. Toss squash with red wine vinegar and 1.5 tbsp olive oil. Spread onto baking sheet (lined with
Silpat
, if desired). Bake squash for 40 minutes, or to desired texture and doneness.
Meanwhile, reduce balsamic vinegar to 3-4 tablespoons and set aside. In the last 10 minutes of baking, add the tofu in with the squash and return to oven. Increase heat to 450° if you want to add a little crispiness.
Whisk reduced balsamic vinegar, remaining olive oil, 2 tsp salt and ½ tsp sugar together in a large bowl. Dump the cooked couscous, squash/tofu mixture, feta cheese and spinach into the bowl and mix until just incorporated. Season to taste with salt and pepper. Serve immediately or at room temperature.