Brown Rice Chipotle Veggie Burgers
[caption id="attachment_181" align="aligncenter" width="540" caption="The finished "burger" with all the fresh accompaniments"]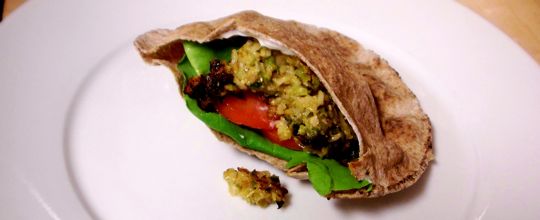 [/caption]
As I write this I still have the taste of chipotle singing on my tongue. That could be because of the Rogue Chipotle Ale I'm finishing off, or because of the incredible smoky chipotle flavor of the Brown Rice Veggie Burger pitas we just enjoyed for dinner.
A few years ago, I decided that I no longer wanted to eat meat that was inhumanely raised or produced in a way that harmed the environment. My coworkers all made bets on how long it would last, but I'm still going strong so I guess I won. :) I cut out the chicken-on-everything diet that seems to come with dining at most restaurants around here and started consuming meat only on rare occasions, and only at home. It didn't take long to realize that buying organic — especially "free range," "grass fed," or "humanely raised" organic — meat is three or more times as expensive as the "conventional" stuff.
[caption id="attachment_182" align="aligncenter" width="540" caption="The assembled patties, ready to go into a hot pan."]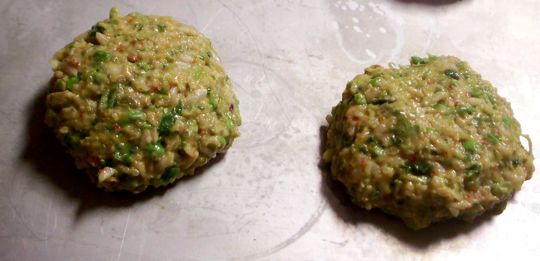 [/caption]
So I began looking for other ways to satisfy the human craving for food with umami. These brown rice and veggie burgers really hit the spot, and there isn't a lick of meat in them. So go ahead and load up a few pita pockets full of this (mostly) guilt-free concoction, adapted from this recipe in Food & Wine.
Brown Rice Chipotle Veggie Burgers
If you're aiming to please carnivores and vegetarians alike, this is a great recipe to serve. The heat of the chipotle and the freshness of the accoutrements come together for a magical combination of flavors that can only be described as good eats.
Special Equipment Required: Food processor
Ingredients
1 packed cup cooked brown rice (8 ½ ounces), made with package directions, substituting vegetable broth for water
½ cup shredded Monterey Jack cheese
1 chipotle in adobo
Kosher salt
1 large poblano chile (about 5 ounces), seeded and finely chopped
2 scallions, thinly sliced
½ cup frozen peas, thawed
¼ cup salted roasted pumpkin seeds (pepitas)
Olive oil, for brushing
Warmed whole wheat pocket pitas, lettuce, tomato slices, sour cream and salsa, for serving
Preparation
Before you begin, cook the rice and measure/chop the vegetables as outline above.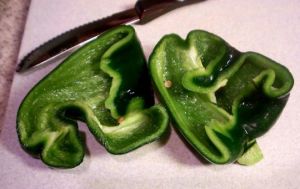 In a food processor, pulse three-fourths of the rice with the cheese, chipotle and 1 teaspoon of salt until slightly pasty. Add the poblano, scallions, peas and pumpkin seeds and pulse until the vegetables are coarsely chopped. Transfer the mixture to a bowl and knead in the remaining rice. Using moistened hands, form the mixture into four 4-inch patties, about 3/4 inch thick, pressing to compact.
Preheat a heavy-bottomed nonstick skillet. Brush the burgers with oil and pan-fry over moderate heat until golden and crusty, about 5-7 minutes. Carefully flip them and grill until heated through and golden, about 5-7 minutes longer. Stuff the burgers into the pitas with lettuce, tomato slices, sour cream and salsa.