I'm remorseful about dinner this evening. Not because I indulged in a plateful of fried chicken or took down a mountain of biscuits and honey. No, I'm remorseful because I ordered a plate of vegetables and tofu. At the restaurant I've been dying to go to for months. Hrmph.

[caption id="attachment_343" align="aligncenter" width="223" caption="Inside the Tupelo Honey Cafe"]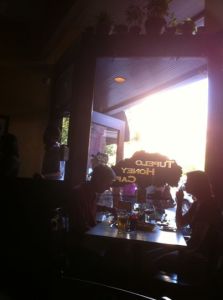 [/caption]

I'm talking, of course, about dinner at the Tupelo Honey Cafe. We were the last in line to get a table right after they opened for dinner, which was a huge blessing because the wait time for the people behind us was nearly an hour. The busy waitresses, a mix of 90-pound tattooed hipsters and fast-moving women twice their age, ran by our table with a constant stream of grits, hot wings, fried chicken, steak, the occasional salad, and a dozen or so pints of beer. For whatever reason, none of it tempted me quite enough. The only thing on the menu that sounded too good to pass up at the time was the one at the very bottom: the vegetable plate.

The vegetable plate?!

[caption id="attachment_344" align="aligncenter" width="540" caption="Vegetable Plate at Tupelo Honey Cafe"]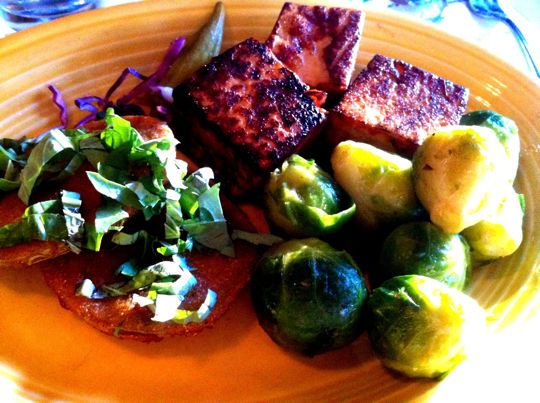 [/caption]

Three of Tupelo's "farm fresh" sides. I decided on the fried green tomatoes, grilled marinated tofu, and brussels sprouts. We'd ordered the local goat cheese appetizer, so I didn't want to go too crazy on the entree. The marinated tofu (pretty sure it was simply marinated in soy sauce) was actually quite good. The Fried green tomatoes were good, but oddly enough don't hold a candle to K's in Winter Park. I didn't have the heart to say this at the restaurant, so I'll say it here:
Don't order the brussels sprouts. They're not good. Not good at all.
There, I feel better. (Heidi Swanson has ruined me for any other preparation of brussels sprouts). Now on to the better parts of the meal. Vance did order the (free-range) fried chicken; ironically, he has zero regrets. His chicken was coated in a nutty batter and fried to perfection, served over a dessert-sweet pile of mashed sweet potatoes. And no bones, which takes away all of the "gross" factor for him when eating chicken.

[caption id="attachment_346" align="aligncenter" width="540" caption="Fried Chicken with Mashed Sweet Potatoes, Tupelo Honey Cafe"]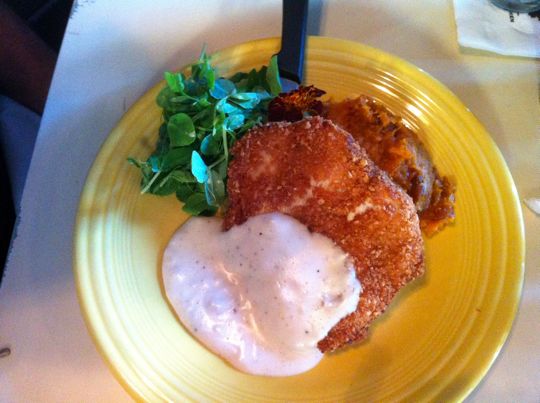 [/caption]

Our appetizer (and yes, I realize I'm writing this in reverse chronological order) was outstanding. If I could recommend anything on the menu based on our experience, it's this:
Order the local goat cheese app. Eat everything on the plate.
[caption id="attachment_347" align="aligncenter" width="540" caption="Order this appetizer."]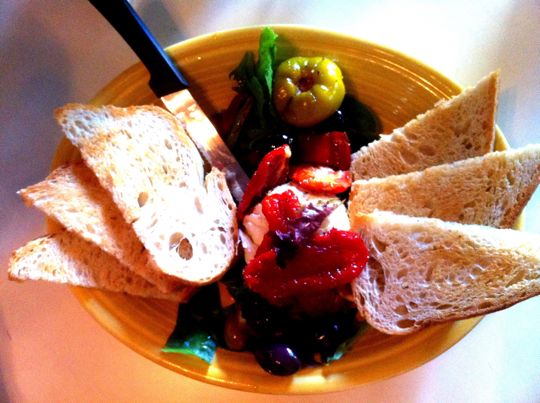 [/caption]

Before we'd even left the place I knew I'd need to return for the Shrimp & Grits. I should have ordered them without a question. Bad Jamie. No cookie.