The holidays came and went in a flash this year, despite the fact that Vance and I managed to amass over 7,000 miles in our travels. We spent a week in Florida with my parents (that sounds so exotic now!) to celebrate Christmas and my (early) birthday, followed by a week with Vance's parents out in Colorado. From a warm, windy ride on a boat in the Keys to a traipse through freshly fallen snow in Pueblo, we experienced the full gamut of winter weather possibilities in the span of a fortnight.
I think this may be the first year when I can say I preferred the former. As insane as it seems to wear shorts on Christmas, surrounded by palm trees and orange groves, it felt good to thaw out for a week. Back in Durham now, my shivering muscles are perpetually sore (does that count as a workout?), and I find myself whining to Vance at least once a day about how I'm cold to my bones!
Alas, the grass is always greener.
To be fair, it is beautiful here now, quiet and picturesque, and (best of all I think) it's perfectly acceptable to curl up in front of the fire with a good book any night of the week. (Currently finishing up Julia Child's My Life in France, in case you were wondering).
[caption id="attachment_735" align="aligncenter" width="235" caption="Photo from Donna Hay"]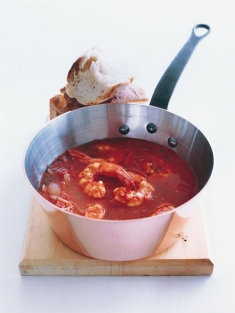 [/caption]
The market has narrowed its offerings down to a short list of meats, hearty greens, and root vegetables, but with that comes the excuse to cook simple, easy one-pot meals like this Tomato and Garlic Stew with Prawns.
What makes this stew even easier is when someone else makes it, which Vance heroically did after a full day of me feeling as if I'd been backed over by a Mack truck full of canned tuna. Nothing better than a heating pad, a dog, and a husband who can cook to cheer me up on a day like today.
Tomato and Garlic Stew with Prawns
I found this recipe in Donna Hay's beautiful "pantry" cookbook, Off the Shelf, which I unearthed from the bottom of a stack of cookbooks at Nice Price in Durham. Serve it with a nice, crusty bread and a glass of crisp, shellfish-friendly wine.
Serves 4.
Ingredients
1 tablespoon olive oil
2 onions, sliced
3 cloves garlic, finely chopped
1 28oz can whole peeled tomatoes
1 cup (250ml) white wine
2 cups (500ml) vegetable or fish stock
1kg raw prawns (shrimp), peeled, veins removed, tails intact
2 tablespoons chopped flat-leaf parsley leaves
sea salt and cracked black pepper
Preparation
Heat a saucepan over medium heat. Add the oil, onion and garlic and cook, stirring occasionally, for 8 minutes or until soft and golden. Add the tomatoes and crush with a fork. Add the wine and stock and simmer for 10 minutes or until thickened slightly.
Add the prawns and cook for 5 minutes or until they have turned pink. Add the parsley, salt and pepper. Spoon into bowls. Serve with crusty bread.