[caption id="attachment_524" align="aligncenter" width="546" caption="Can you imagine a more delicious vegan sandwich? No, no you can't."]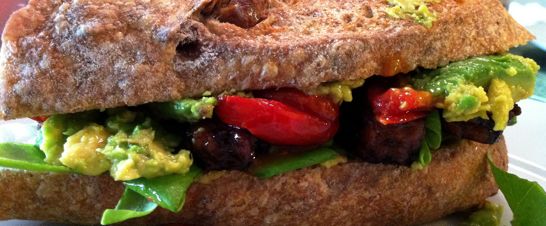 [/caption]

Some days, getting food from a co-op feels a bit like a curse. Like when we got that bitter melon that (thankfully) started rotting before we had a chance to use it. (Shucks.) This week, though, the local farms put out some incredible high-quality veg that I couldn't wait to eat.

Today's lunch: phenomenal. Using the local avocado, grape tomatoes, lettuce, and bread we got from Homegrown, I threw together a vegan sandwich reminiscent of Heidi Swanson's "TLT Sandwich" recipe.

[caption id="attachment_521" align="aligncenter" width="546" caption="Slightly dried tomatoes are extra sweet; I could eat a bowl of these by themselves."]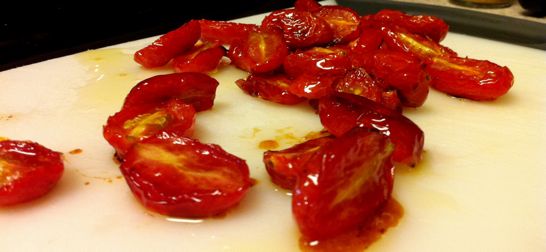 [/caption]

Her blog really says it best:
At this point in time, no other sandwich I make is more requested. Instead of a classic BLT sandwich, I make a TLT - tempeh, lettuce, and tomato. Not an original concept, but my secret is this...every component needs to be over-the-top flavorful.
And that's exactly what this was. Hard to eat? Yes. There were pieces of tempeh flying across the table (thankfully all of it landed on the table, rather than on the floor, so we just picked it up and shoved it back into the sandwich for another bite). For this reason, do not use bread with a tough, chewy crust that you have to gnaw with your teeth! That is, unless you enjoy food flying at the lunch table. Then, it's a blast. Oh, and did I mention it was totally worth it?
It was.
Tempeh Lettuce and Tomato Sandwich
The original recipe differs quite a bit from this; I've shortened the prep time from about 2 hours down to 45 minutes and (accidentally) eliminated the chipotle in adobo. Definitely check out the original on 101 Cookbooks if you've got time to spare!
Ingredients
3 tablespoons olive oil
¼ cup soy sauce
2 tablespoons balsamic vinegar
2 tablespoons brown sugar (or maple syrup)
8 ounces of tempeh, cut into 1/3-inch thick strips
1 small basket of grape or cherry tomatoes (2 cups)
1/4 cup extra-virgin olive oil olive oil
1 tablespoon brown sugar (or maple syrup)
scant 1/2 teaspoon of salt
½ small head of butter lettuce, cored, then cut into ¼-inch ribbons
1-2 large avocados, mashed with a pinch of salt just before assembling
4 or 8 extra-thin slices of hearty whole grain bread, well toasted
Preparation
Preheat the oven to 400° F.
Whisk together the 3 tablespoons of olive oil, soy sauce, balsamic vinegar, and brown sugar. Pour 1/3 of the marinade into an 8x8 baking dish (or something comparable) - you want a dish that is just big enough to hold the tempeh in a single layer - this way it will be fully enveloped by the marinade. Pour the remaining marinade over the top of the tempeh, cover and set aside until ready to use (refrigerate up to 12 hours if you wish).
While the tempeh is marinating, go ahead and roast the tomatoes. Cut each tomato in half and arrange them in a large oven-proof baking dish. Mix together the olive oil, sugar, and salt and pour this over the tomatoes. Gently toss them a bit, making sure they all get coated, finishing with each tomato facing cut-side up. Place in the oven and bake for 25 minutes or so, until the tomatoes are slightly shrunken and sweet.
When the tempeh is done marinating heat a large pan over medium-high heat and cook the tempeh slices for a few minutes on each side. You may need to do this in batches if you don't have a big enough pan. Set the tempeh slices aside until you are ready to assemble the sandwiches.
Slather a generous layer of mashed avocado on one side of each slice of bread. Place a small helping of the shredded lettuce on top of the avocado, a few tomatoes, then a few slices of the tempeh, and more tomatoes. Enjoy either open faced or topped with another avocado-slathered bread slice.