The Season's Pick box from our local co-op has been pretty hit-or-miss lately. We've gotten some bizarre and exotic stuff in there, but very little that we would normally include in our typical cooking repertoire.
This week, however, I was delighted to find two huge, perfectly ripe, flawless heirloom tomatoes waiting in the bottom of the box. Normally I would just slice and top them off with a little light vinaigrette, so as not to take away from the perfect flavor tomatoes have this time of year. But this week I was inspired by the newest issue of Food & Wine, which is filled with southern recipes reinvented for the modern cook.
[caption id="attachment_194" align="aligncenter" width="300" caption="Heirloom Tomatoes, two from our Season's Pick box and one from Whole Foods"]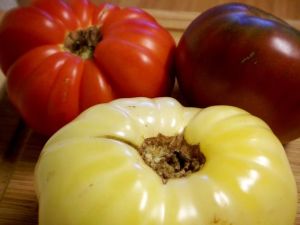 [/caption]
I grew up in the South… ish. Most of my extended family was centrally located in Memphis, Tennessee, and our family vacationed in North Carolina nearly every summer. It goes without saying that I was exposed to a great deal of southern food in my formative years. My grandmother's macaroni and strawberry cake recipes are legendary. (At least the Gillespies — myself included — think so!) And while I wasn't exposed to collards and okra until I joined the co-op many years later, I have fond memories of black-eyed peas, corn bread, and sweet potato casserole (smothered in toasted marshmallows, of course) from Christmases past.
There are few food genres that have a worse reputation for health value than Southern cooking (or is that cookin'). Rightfully so, perhaps. On my most recent trip to Memphis, the smell of southern fried chicken was in the air seemingly from the moment I stepped off the plane until I boarded again two days later. Which is why I was surprised to find a (mostly) healthy heirloom tomato salad in the middle of last month's issue of Southern Living magazine. (I know, I said I was inspired by this month's Food & Wine, but that's what made me pick up the Southern Living in the first place… Track with me, people.)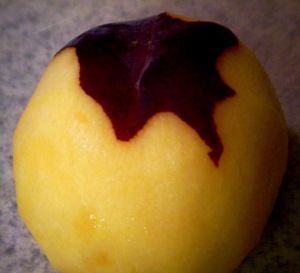 Normally I change a few things about a recipe before posting it here — things I'd change if I made it again, or substitutions I had to make based on what I had on-hand at the time — but there's very little I would do to change this one. If you have amazing tomatoes and peaches at your farmer's market this time of year, this one is definitely worth a shot. If it's the middle of the winter and your tomatoes are like cardboard, put this on the shelf until tomato season hits!
[caption id="attachment_196" align="alignnone" width="540" caption="Heirloom Tomatoes with Fresh Peaches, Goat Cheese, and Pecans"]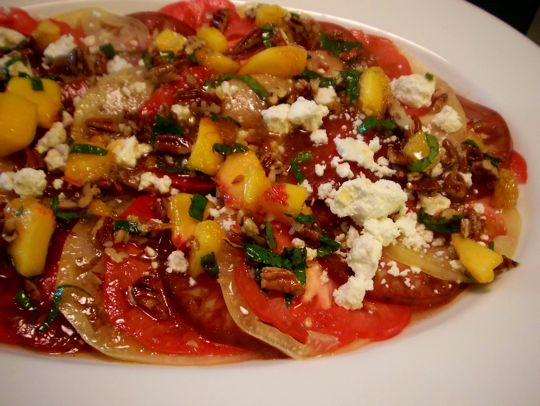 [/caption]
Heirloom Tomatoes with Fresh Peaches, Goat Cheese, and Pecans
This will take about 20 minutes to prepare and make 6 servings, but my husband and I ate the entire thing right off the platter.