[caption id="attachment_452" align="aligncenter" width="540" caption="Honey for sale at the Savannah Bee Co."]

[/caption]
Sentient Bean
I was about out of steam after Circa 1875 Saturday night, but a long night's rest and a walk through the chilly fall morning to Sentient Bean woke me right up. Forsyth Park is lined with beautiful, historic homes, many of which have been converted to Inns. Vance and I pointed at all the ones that would make the perfect Bed & Breakfast location, bouncing ideas off one another about what we'd serve, where people would sit to eat their homemade popovers and scones, how expensive the renovation would be…
At the end of the park sits Sentient Bean, another one of those businesses where we get to vote with our dollars. To put it bluntly, their coffee isn't brewed off the backs of underpaid growers living in poverty. And their all-vegetarian menu is sourced from sustainable sources. Awareness of the products they serve and the story behind those products is ingrained in their name; Sentient: having sense of perception; conscious. Which is a happy change from some of the coffee houses we're used to. (Pro tip: Skip the biscotti).
[caption id="attachment_449" align="aligncenter" width="540" caption="A solid hour of reading at Sentient Bean preceded a sugar rush at River Street Sweets"]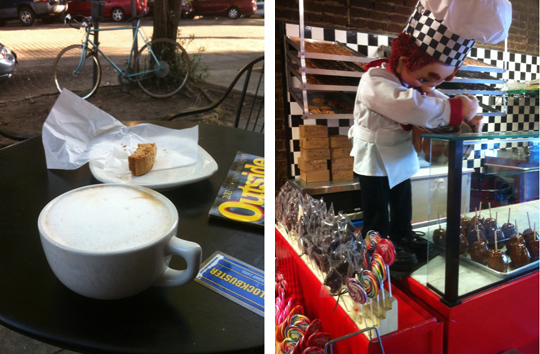 [/caption]
River Street Sweets
Our trip couldn't have been complete without me getting to try some of the city's best saltwater taffy. So Vance and I made the trek out to River Street Sweets, the happiest tourist trap you could ever get sucked into. I picked up a hunk of chocolate to nibble as we walked along the stone road toward lunch, and finally tried a piece of butterscotch taffy after my fudge had disappeared. Incredible. I don't know what I've been thinking all my life, trading taffy for Crunch bars the morning after Halloween.
Firefly Cafe
Our last stop was far from a tourist trap. We ended up at the Firefly Cafe, after a couple of our other lunch choices failed to be open on Sundays (good for them)! The tiny restaurant is buzzing with conversation and friendly faces; you can tell most of the people sitting there live within a mile walk of the place.
[caption id="attachment_458" align="aligncenter" width="540" caption="Sunday Brunch at the Firefly Cafe is the place to be in this corner of Savannah."]

[/caption]
Turn down the coffee in favor of a bloody mary, and if you're avoiding meat, go for the Greek Omelette with a side of creamy grits like you can only find in the South. The menu is a little sparse in terms of vegetarian options, but this one was a real flavor parade.
Savannah Bee Co.
One of my new favorite spots in Savannah has got to be the Savannah Bee Company. If you think honey is just honey (as I did until about a year ago), you should make a