The "Piper" release of SocialSpark was finally announced last week. It's the first feature set to roll out for the new version, and so far it's been quite the roller coaster. Some days, I'm home after 7 (I get into the office around 7 am); some days I'm up into the wee hours getting a new feature ready for prime time the next morning. It's exciting, emotional work, but unfortunately it leaves little time for cooking gourmet meals, much less blogging about them.
The Mise en place for a glazed bundt cake from The Grand Central Baking Book
— the next in a series of Portland food posts — is on the kitchen counter coming to room temperature. Meanwhile, I wanted to give a shout out to someone else who is cooking up amazing homestyle Mediterranean cuisine with fresh, local ingredients.
[caption id="attachment_209" align="aligncenter" width="300" caption="Maraya at Sabrina's has a lovely ambience, save for the lack of crowds."]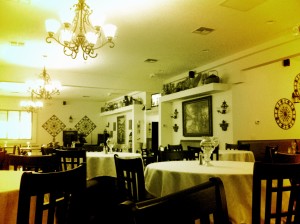 [/caption]
I'm not sure if it's accurate to call this place "off the beaten path" when it's in the heart of tourist country in Orlando, FL, but it's tucked back into such a corner that I'll call it that anyway. Maraya at Sabrina's, a few hundred yards from the Florida Mall, serves up fresh, locally raised and organic Mediterranean dishes.
While their website leaves much to be desired (these things matter to the designer-developer in me) the food more than makes up for it. As soon as we entered we were greeted by Violet, as warm and inviting an individual as you could ever expect to find at a family gathering. She absolutely adores the food, and genuinely seems to want to get to know the patrons who dine at Sabrina's.
[caption id="attachment_208" align="aligncenter" width="300" caption="A bit of hummus, on the house."]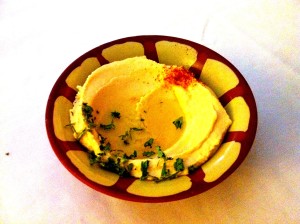 [/caption]
Our meal started with a complimentary hummus, as well as some Kibbeh, which Violet begged us to try. They were crispy and delicious; a great way to start off a Friday night meal. I settled on a Greek salad for dinner, while Vance ordered the lamb. Priscilla, a dear friend of mine, had highly recommended the lamb and I'll do the same here. I'm not much on lamb (I get visions along the lines of this when I think about ordering it) but I had a nibble and it did not disappoint.
[caption id="attachment_210" align="aligncenter" width="300" caption="The "must-try" lamb at Maraya at Sabrina's."]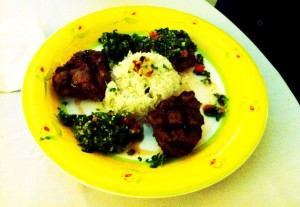 [/caption]
If you're in the Orlando area, and I know most of you reading this are, I'd definitely add it to the dinner rotation when you're on that side of town. Don't let the website scare you away. ;)