[caption id="attachment_433" align="aligncenter" width="540" caption="The only style of graffiti that makes me smile. (Photo: Vance Kite)"]

[/caption]
Wherever you are in America, there are terrific places near enough for a short road trip to a weekend away. And it's so healthy to occasionally push yourself out of the normal routine, to remind yourself what's truly important in life: God, family, food. (You had to see that one coming).
As much as I know it's important to get away, it's good to have someone here to actually force the issue. I'm going around life's merry-go-round at a dizzying speed; Vance pushes the big red button and says, "Get OFF — we're going to Georgia."
[caption id="attachment_429" align="aligncenter" width="540" caption="The most adorable baby slippers from Paris Market. I'll have to ask Vance's grandmother to make us these some day."]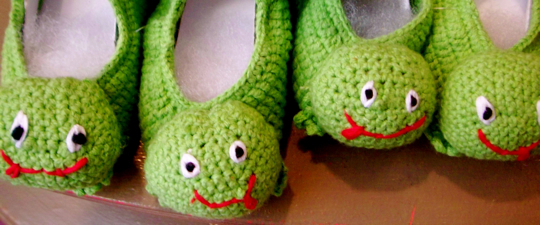 [/caption]
So to Georgia we went — Savannah specifically — leaving our neurotic but lovable "puppy" in the care of some dear friends (who also could use a weekend away). We arrived five hours later at an artsy cafe somewhere in Downtown, although I can't say exactly where it was since the only concern I had was downing a chocolate cookie the second I walked through the door.
Soho South Cafe
Based on some Yelp recommendations, we had chosen Soho South Cafe as the first stop on our whirlwind tour of the "hostess city." I might have mistaken the place for a quirky art gallery gift shop, but it didn't take long for the chocolate chip cookies piled high in glass jars to start singing the Call of the Sirens. We sat on a creaky bench happily munching one of the dense cookies until the waitress seated us. It was nearly 2 o'clock in the afternoon and there was still a wait at this place. Albeit a happy wait; there were plenty of cookbooks and art pieces to keep us occupied.
The wait turned out to be worth it in the end. I downed their signature Crab Cake Sandwich in the span of a very lady-like two minutes; Vance took down a grilled cheese and tomato soup (amazing, smoky, delicious cheese combination BTW) in about the same amount of time. My crab cake was outstanding on its own, but paired with a toasty challah roll and some Russian dressing it was over the top.
[caption id="attachment_436" align="aligncenter" width="540" caption="The quirky atmosphere and food at Soho South Cafe"]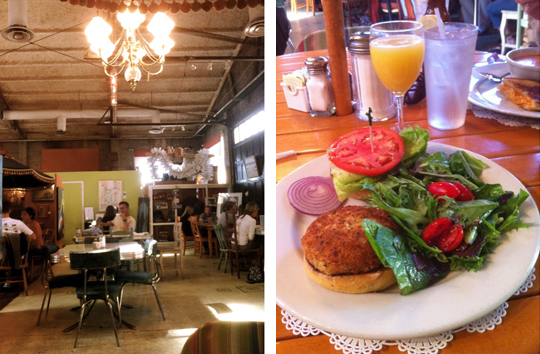 [/caption]
After a short walk, it was time to head over to the historic district, to the Savannah Bed & Breakfast Inn. The Inn does a "manager's special" deal, where you take whatever room is left over at a reduced rate, and they really put us up in a nice one. At about $129 a night, the price is right.
Cha Bella
After a brief respite in our lovely room, we walked in the general direction of dinner. We stopped by