[caption id="attachment_596" align="aligncenter" width="549" caption="Crispy Gnocchi with Romesco and Melting Tuscan Kale"]

[/caption]
The last couple of days have been bizarre, to say the least. If you found Ravenous Fig via Hacker News, you know what I mean. If not, there's a pretty fantastic recipe in here for you that will hopefully make up for lost time.
Let's rewind. For my birthday last month, Vance took me to Atlanta to visit some friends who just had the most adorable baby boy. Seriously. He makes the Gerber baby look like an elephant calf with angler fish teeth. We stayed at a sweet bed & breakfast in Midtown, which was a great comfort considering how sick I'd get before we left.
[caption id="attachment_598" align="aligncenter" width="400" caption="Romesco Sauce is thickened with bread and nuts to give it a nice body and texture."]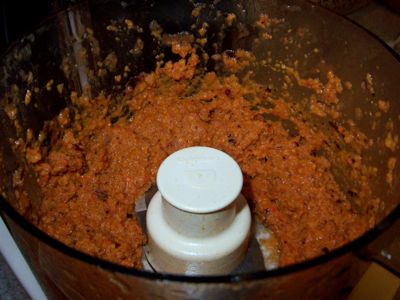 [/caption]
These flu-like symptoms kind of snuck up on me. I tried to pretend it wasn't happening and power through, but by the last night I was sitting in the bottom of the bathtub letting the hot water beat on my back as I coughed up Lord-knows-what. Not the best way to spend a vacation, but I got some good magazine time in while I was holed up in the room, specifically with La Cucina Italiana.
[caption id="attachment_600" align="aligncenter" width="400" caption="New Mexico Chiles can be found in the ethic foods aisle of most major grocery stores."]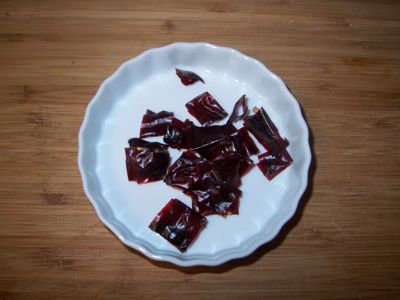 [/caption]
That magazine has the most beautiful food photography. It almost made me want to throw away my camera and never publicly post a food photo again. It somehow entered into my ill consciousness, though, giving me dreams of gnocchi with rich sauce and melted kale. Soon after I got back to Orlando and over my illness, I had pieced together a meal I could only imagine would taste like magic.
Crispy Gnocchi with Romesco and Kale
This recipe may have been the result of psychedelic flu dreams but believe me, it's worth the hour or so it takes to prepare. After having prepared and eaten it twice, it's one that'll definitely make an appearance in this year's family cookbook. Enjoy.
Special Equipment Needed: Food processor.
Crispy Gnocchi Ingredients
¼ lb butter (1 stick)
1 lb fresh or packaged gnocchi (I use whole wheat packaged Gia Russa gnocchi when I'm in a hurry)
Romesco Ingredients
1 large tomato, cored
1 (1/2-oz) dried New Mexico chile
1/3 cup extra-virgin olive oil
2 tablespoons hazelnuts*, toasted and loose skins rubbed off with a kitchen towel while warm
2 tablespoons blanched almonds
2-3 slices firm white or wheat bread, cut into 1/2-inch cubes
2 large garlic cloves, sliced
1/8 teaspoon dried hot red pepper flakes
1/2 of one bottled roasted red pepper, drained and chopped
2 tablespoons water
1 tablespoon red-wine vinegar
1/4 teaspoon salt, or to taste
* I substituted unsalted shelled pistachios when I made this