[caption id="attachment_387" align="aligncenter" width="540" caption="Finished Cherry Tomato, Caper and Balsamic sauce on pasta"]

[/caption]
Not too long ago, I consumed copious amounts of frozen pizzas, pre-made salsas, boxed pastas with powdered sauce mixes, and various questionable meats marinated with reconstituted powdered "flavor packets" as part of my regular diet. I didn't have a need to keep a stock of whole foods — by which I mean foods that are unprocessed and unrefined (or minimally processed and refined), not the national grocery chain.
Once I discovered how easy it is to prepare simple, affordable meals from scratch rather than whipping out a meal-in-a-box, -bag, or -can every night, I started keeping a few things on-hand at all times. Eventually the "few things" became much more than that. Our pantry looks something like Alton Brown's pantry in the Good Eats kitchen. You don't need to go that far, but it is much less intimidating to prepare from-scratch meals when you already have a supply of most of the ingredients on the list.
[caption id="attachment_388" align="aligncenter" width="300" caption="Our pantry is stocked with most of the items on Jamie Oliver's list, as well as a "few" extra items we've picked up along the way."]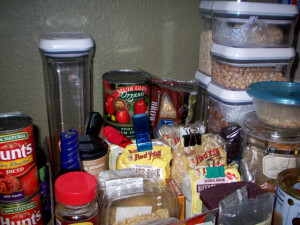 [/caption]
Jamie Oliver put together a wonderful, relatively exhaustive list of "Essential Cupboard Ingredients" in Jamie's Food Revolution. (If you're new to cooking at home and you want to buy one cookbook, that's it). From all-purpose flour to smoked paprika we've got nearly all of it. I'd add a few fresher items to the list as well, like lemons, butter, garlic, capers, a block of parmesan, and any seasonal fruit you like. They don't all meet the criteria of "sitting happily in your cupboard or freezer for months," but we go through them fast enough to always re-stock when we run out. Oh, and you can add bars of chocolate to that list… :)
[caption id="attachment_389" align="aligncenter" width="300" caption="Garlic prepped for this sauce."]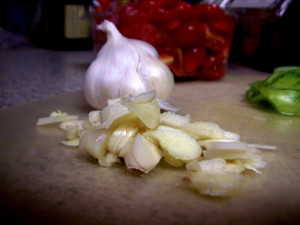 [/caption]
Last night I whipped up a big-flavor sauce in the time it took me to boil water and cook linguine, using a few pantry staples and some of the last of the season's cherry tomatoes. I threw in some gorgeous, striped green heirloom tomatoes to add a dimension of color, but you could use a simple pint of red cherries if that's all your supermarket has on hand.
This sauce ends up looking and tasting quite impressive, but cooks up in less time than it takes to heat the oven and bake your average frozen pizza. No more excuses!
[caption id="attachment_391" align="aligncenter" width="300" caption="The finished sauce, ready to serve."]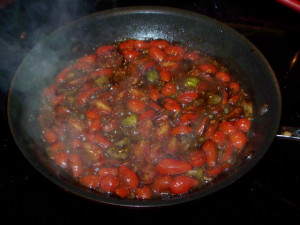 [/caption]
Cherry tomato, Caper, and Balsamic Sauce
We served this over some lovely garden (tri-color) linguine, but it would also be excellent spooned over another pasta, fish, or meat. This recipe is from Jamie's Food Revolution.
Ingredients
4 cloves of garlic
1 pint cherry or