[caption id="attachment_291" align="aligncenter" width="540" caption="The finished Summer Vegetable Ragout with Exotic Curry Sauce."]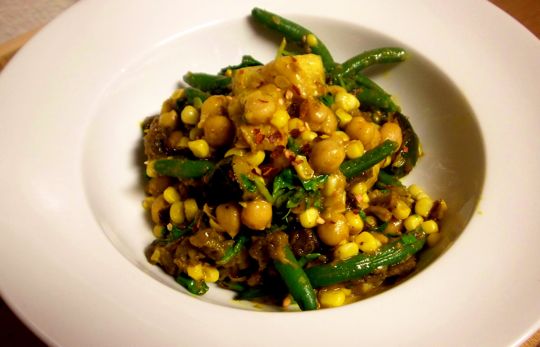 [/caption]
From-scratch curry sauces can be pretty intimidating. Ingredients like lemongrass can be hard to find, and sometimes the sheer quantity of ingredients it takes to make a curry can send you running out of your kitchen and into the nearest Thai restaurant, where someone else will make it for you. But what fun is that? It's the Labor day weekend and there's plenty of time to get out the old mortar and pestle for a sauce-making adventure.
We're finally winding down from the squashy days of summer (summer squash, that is — what were you thinking?) But last week I still had some yellow squash and zucchini in the produce drawer, along with an eggplant, corn, and arugula. So to avoid letting any of it get past its peak, I made this dish, which incorporates them all in a surprisingly beautiful combination of flavors that will leave even the meat eaters at the table satisfied.
[caption id="attachment_292" align="aligncenter" width="540" caption="All of the vegetables are combined shortly before serving for a final re-heat in the oven."]

[/caption]
Lemongrass and ginger are pretty key to this recipe, so don't skip them; lemongrass can often be found in the fresh herbs section of the produce department of your local megamart, or in an Asian market. (Or, if you live in Winter Park, it's growing like crazy in a planter along Park Avenue — I'm sure they wouldn't notice if you snagged a stalk). Carrot juice is another key ingredient. I found a small bottle with the fresh fruit juices in the produce department. (If I had a juicer, I would have definitely used it!)
Summer Vegetable Ragout with Exotic Curry Sauce
This recipe is largely unchanged from the original, which appeared in the September 2010 issue of Bon Bon Appétit magazine. If you like a saucier meal, double the curry sauce recipe — you don't have to use all of it but you at least know you'll have enough for everyone!
Ingredients for Curry Sauce
3 tablespoons vegetable oil, divided
1 small onion, chopped (about 1 cup)
1 small carrot, peeled, chopped
1 stalk lemongrass, coarsely chopped and pounded with meat mallet to flatten slightly (Jamie note: I chopped the lemongrass pretty fine and threw it in my stone mortar. I then proceeded to bash out the week's aggressions with the pestle. Works like a champ.)
1 1-inch piece unpeeled fresh ginger, thinly sliced
1 small Granny Smith apple, peeled, finely chopped (about 1 cup)
2 tablespoons curry powder (preferably Madras)
2 1/2 tablespoons all purpose flour
2 cups fresh carrot juice
[caption id="attachment_293" align="aligncenter" width="300" caption="Some of the Mise en Place -- curry powder and apple."]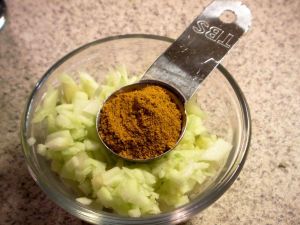 [/caption]
Other Ingredients (Vegetables)
1 1/2 pounds eggplants (about 2 medium), peeled, cut into 1-inch cubes
5 tablespoons vegetable oil, divided
1 pound assorted summer squash (such as zucchini, yellow crookneck, and pattypan), cut into 1-inch pieces
1 pound green beans, haricots verts, and/or yellow wax beans, trimmed, cut into 2-inch lengths
4 ears of corn, husked
1 15- to 16-ounce can garbanzo beans (chickpeas), drained
2 cups (packed) arugula
1/4 cup torn fresh basil
Curry Sauce Preparation
Heat 1 tablespoon oil in large saucepan over medium heat. Add onion, carrot, lemongrass, and ginger; sauté until slightly softened but not brown, about 5 minutes. Add apple and curry powder; sauté until vegetables are tender, about 8 minutes. Add remaining 2 tablespoons oil, then flour and stir 1 to 2 minutes. Gradually pour in carrot juice; bring to boil, whisking constantly. Reduce heat to medium-low; simmer uncovered until sauce is slightly thickened and reduced to generous 2 1/2 cups, about 20 minutes. Strain sauce through fine strainer set over bowl, pressing on solids to extract as much liquid as possible; discard solids in strainer. Season to taste with salt and freshly ground pepper. DO AHEAD: Curry sauce can be made 1 day ahead. Cool slightly. Cover; chill. Rewarm before using.
Vegetable and Final Dish Preparation
Preheat oven to 400°F. Place eggplant cubes in large bowl. Add 3 tablespoons oil and toss to coat; sprinkle with salt. Spread eggplant cubes in even layer on large rimmed baking sheet. Toss squash and remaining 2 tablespoons oil in same bowl. Sprinkle with salt and pepper. Spread squash in even layer on another large rimmed baking sheet. Roast until squash and eggplant are light golden and tender, turning occasionally, about 25 minutes for squash and 40 minutes for eggplant. Remove baking sheets with vegetables from oven and set aside. Fill large bowl with water and ice. Cook beans in large pot of boiling salted water until just crisp-tender, 2 to 4 minutes, depending on size of beans. Using tongs, transfer beans to bowl of ice water to cool. Drain. Maintain boiling water in same pot; add corn. Cook until corn is just tender, about 5 minutes. Drain corn. Cool slightly. Cut kernels off corn cobs; discard cobs. DO AHEAD: Vegetables can be made 4 hours ahead. Combine all vegetables on large rimmed baking sheet. Let stand at room temperature until about 15 minutes before the meal is to be served.
Preheat oven to 400°F. Mix garbanzo beans into vegetables; bake until heated through, about 15 minutes.
Combine hot vegetables and hot curry sauce in large bowl. Season to taste with salt and pepper. Stir in arugula and basil.
Serving Suggestions: This was excellent with some simple warm pita, but if I was to make it again I would add some fried tofu or organic chicken.