[caption id="attachment_612" align="aligncenter" width="540" caption="These scones are the perfect combination of crunchy, sweet, and wholesome. Get them while they're hot!"]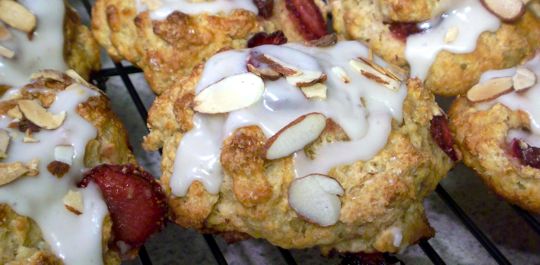 [/caption]
Crazy weeks have a tendency to make me… well, a little bit crazy. I'm constantly analyzing, constantly predicting what will happen next (and probably constantly wrong)! It's hard to think about what to make for breakfast when there's a four foot monkey on my back. Which is why last weekend was so nice — I woke up in the morning from a dream about these lovelies, and I had to make them.
Somehow baking has this way of bringing me back down to earth. Maybe it's the exactness of the knife scraping extra flour off the cup measure to make precise, scientific measurements (what, you don't do that?); maybe it's the chemistry that happens when leavening agents mix with a handful of raw ingredients to produce something smile-inducing. Either way, these scones marked the beginning of a perfect Sunday last week.
It's a happy thing when fate smiles upon us and all of the ingredients for a recipe are hanging out in our kitchen just waiting for us to swirl them together into a masterpiece of foodstuff. Whole wheat pastry flour, the last of a somewhat questionable carton of buttermilk, even turbinado sugar were all standing by when I stumbled down the stairs into the kitchen in my PJs and a nappy hairdo.
An hour later I had some of the most delicious — dare I say moist — scones I've ever tasted. We brought some extras with us to the park to give to Jon and Kendra, who promptly inhaled them after changing Ezra's third public diaper explosion of the day. Success.
Strawberry-Almond Buttermilk Scones
These scones are incredibly delicious the first day; if you plan on keeping them longer, store them in a container in the refrigerator for 2-3 days and rewarm in the toaster oven.
Scone Ingredients
1 1/2 cups all-purpose flour
1 1/2 cups whole wheat pastry flour
1/4 cup plus 2 tablespoons granulated sugar
1 tablespoon baking powder
1/2 teaspoon baking soda
1/2 teaspoon salt
1 stick cold, unsalted butter, cubed
1 1/4 cups buttermilk, plus more for brushing
1 1/2 cups sliced strawberries
2 tablespoons turbinado sugar (also called Sugar in the Raw)
Topping
1/2 cup sliced almonds
1 cup confectioners' sugar
3 tablespoons buttermilk
1/4 teaspoon pure almond extract
Pinch of salt
Scone Preparation
Preheat the oven to 400° and line 2 baking sheets with parchment paper. In a large bowl, combine the all-purpose and whole wheat pastry flours with the granulated sugar, baking powder, baking soda and salt. Using a pastry blender (or two knives), cut in the butter until the mixture resembles coarse meal (little pebbles? — never know how to describe this). Stir in the 1 1/4 cups of buttermilk and carefully fold in the sliced strawberries. (I needed about 1/4 cup of extra buttermilk to get the mixture to come together, but keep in mind that this will not be a wet dough).
Using an ice cream scoop or a spoon, scoop the dough into 16 mounds on the prepared baking sheets. Brush the scones with buttermilk and sprinkle with the turbinado sugar. (Why? Because turbinado sugar makes the tops of the scones all crunchy and fantastic.) Bake in the upper and lower thirds of the oven for 30 to 35 minutes, until the scones are golden and cooked through; shift the pans from front to back and top to bottom halfway through baking. Let the scones cool on a rack for 30 minutes.
Topping Preparation
Lower the oven temperature to 350° (or, heat up the toaster oven to 350°). Spread the almonds in a pie plate and toast for about 8 minutes, until golden. (Watch carefully, as once you smell the nuts, they're already burned.) Meanwhile, in a small bowl, whisk the confectioners' sugar with the buttermilk, almond extract and salt. Cover and let stand at room temperature.
Drizzle the scones with the glaze, then top with the almonds, pressing to help them adhere. Let dry for 10 minutes, then serve.
Note: The original recipe had slightly different quantities of confectioner's sugar and almond extract than what I've listed above; I've adjusted based on our experience with this recipe, but you're more than welcome to use the original quantities!