[caption id="attachment_581" align="aligncenter" width="545" caption="Look for firm, creamy-white florets that are tight and without brown speckles."]

[/caption]

For the first time in weeks, Vance and I have gotten to go to our Saturday farmer's market. It's one of those farmer's markets that's open year-round and serves fruits and veggies that could be from anywhere (most are not from within 100 miles). But we have to go to get our bagel fix from Davis Bakery (which has since been sold and will never be the same but we try not to think about that too much). Anyway, I consider it a bit of a personal challenge whenever we go to find something local to take home.

This week, it was cauliflower. Cauliflower's one of those things that's a bit of a blank canvas. You can roast it, eat it raw, cut it like steak and smother it in tomato sauce, turn it into low-carb mashed potatoes, or whazz it up into a luscious, creamy soup. Today, as part of our monthly Fancy Feast, I decided to do the latter.

[caption id="attachment_582" align="aligncenter" width="545" caption="The finished soup and parmesan tuile."]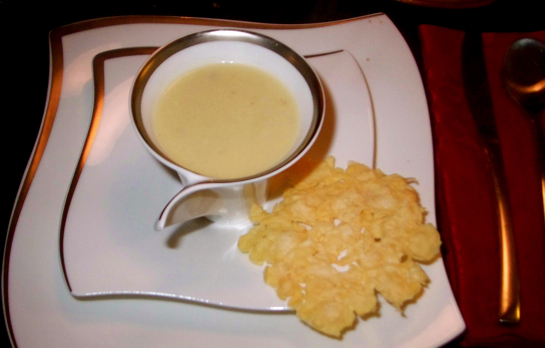 [/caption]

This was served among five other dishes in a tapas style spread, all but one of which were total winners (if you're lucky, I'll be disciplined enough to get them all posted to the blog!) Somehow this simple, fast soup made it to the top of Vance's list — the top two of mine. And now that I know how simple and delicious it is, it'll be appearing on our menu just about as often as I can snag some local cauliflower from the market.
Silky Cauliflower Soup with Parmesan Crisps
This recipe is David Lieberman's, but it's likely to make it into next year's cookbook in some form or fashion. It's dead easy to make if you have an immersion blender. Use caution if you're planning to throw it all in a blender!
Ingredients
For the soup:
1 head cauliflower
2 tablespoons extra-virgin olive oil
1 small onion, chopped
2 cloves garlic, minced
1 quart low-sodium chicken stock
1/2 cup finely grated Parmesan
Salt and freshly ground black pepper
For the parmesan crisps:
1 cup shredded Parmesan
Chopped chives, for garnish
Preparation:
Preheat the oven to 350° F.
Prepare the soup. Remove the leaves and thick core from the cauliflower, coarsely chop, and reserve. Heat the olive oil in a large saucepan or soup pot over medium heat and add the onion and garlic. Cook until softened, but not browned, about 5 minutes. Add the cauliflower and stock and bring to a boil. Reduce the heat to a simmer, cover, and cook until the cauliflower is very soft and falling apart, about 15 minutes. Remove from heat and, using a hand held immersion blender, puree the soup, or puree in small batches in a blender* and return it to the pot. Add the Parmesan and stir until smooth. Season, to taste, with salt and black pepper. Keep warm until ready to serve.
Meanwhile, make the Parmesan crisps: Line a baking sheet with aluminum foil. Spread the shredded cheese over the foil in 1 even thin layer. Bake about 10 minutes until golden brown and crisp. Remove from oven and let cool 5 minutes. Break sheet of crisp cheese into large pieces and garnish each soup bowl with a couple shards and a pinch of fresh chives.
*When blending hot liquids: Remove liquid from the heat and allow to cool for at least 5 minutes. Transfer liquid to a blender or food processor and fill it no more than halfway. If using a blender, release one corner of the lid. This prevents the vacuum effect that creates heat explosions. Place a towel over the top of the machine, pulse a few times then process on high speed until smooth.