One of the things I've noticed about my eating habits since I got married is that I almost never eat the same thing twice when we cook at home. Each week when the co-op's "Season's Pick" box arrives, I go through a ritual of searching out recipes that maximize the use of the fresh ingredients we have, minimizing what we need to buy at the store (I have designs on building an app for that… When I get some of that free time everyone's always talking about).
There are, however, one or two dishes we make again and again no matter what's in season. And Shakshuka is one of them (peppers are nearly always in season in Florida). Now that another egg scare is in the news, I'm sure many would pass on this dish at first, but I've (accidentally) overcooked the eggs a time or two and it hasn't hurt the end result too badly. So if you're trying to be cautious about eggs that may have come from a factory farm, go ahead and leave them in until the yolks are completely set. (Better yet, buy your eggs from a local organic farmer where there's less chance of salmonella contamination.)
This is such an easy and inexpensive dish to prepare that it leaves you with no excuse not to have dinner at home. The hardest part about making it is not breaking the yolks when you go to add the eggs to the simmering tomato sauce, but (as Julia would say) you've just got to have the "courage of your convictions." And if you break a yolk, toss it in anyway; nobody will be any the wiser.
I like to serve Shakshuka family style, with everyone taking spoonfuls of this unique Israeli dish from a communal pot in the middle of the table. Serve it with warmed pita or a loaf of crusty bread. Geshmak!
Shakshuka
This recipe was adapted from one of my favorite food blogs. Everything I've tried from the Smitten Kitchen has been a hit. But nothing has stuck quite like this Shakshuka recipe, which was adapted from Saveur. Serves 4 to 6 (or if you're like me, 2).
Ingredients
¼ cup olive oil
5 Anaheim chiles or 3 jalapeños, stemmed, seeded, and finely chopped (this amount really doesn't make it very hot at all. Be brave.)
1 small yellow onion, chopped
5 cloves garlic, crushed then sliced
1 teaspoon ground cumin
1 tablespoon paprika
1 28-ounce can whole peeled tomatoes, undrained (I prefer San Marzano tomatoes if you can find them — whatever you do get good quality tomatoes since these are the star!)
Kosher salt, to taste
6 eggs
½ cup feta cheese, crumbled
1 tablespoon chopped flat-leaf parsley (dry parsley is a fine substitute if you don't have fresh)
Warm pitas, for serving
[caption id="attachment_238" align="aligncenter" width="300" caption="San Marzano Tomatoes are truly a luxury. I buy them in bulk whenever they're on sale."]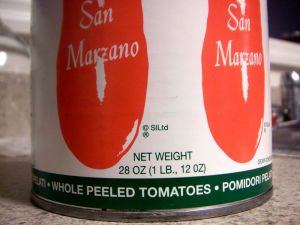 [/caption]
Preparation
Heat oil in a 12-inch skillet over medium-high heat. Add chiles and onions and cook, stirring occasionally, until soft and golden brown, about 6 minutes. Add garlic, cumin, and paprika, and cook, stirring frequently, until garlic is soft, about 2 more minutes.
Put tomatoes and their liquid into a medium bowl and crush with your hands (Jamie note: I use a potato masher or pastry cutter for this, but you can use your hands if you're into that). Add crushed tomatoes and their liquid to skillet along with ½ cup water. Reduce heat to medium and simmer, stirring occasionally, until thickened slightly, about 15 minutes. Season sauce with salt to taste.
[caption id="attachment_239" align="aligncenter" width="300" caption="I use a pastry cutter to mash up the tomatoes for this dish. Less mess than using your hands."]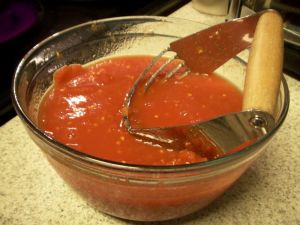 [/caption]
Crack eggs over sauce so that eggs are evenly distributed across sauce's surface. (Jamie note: I like to crack each egg into a little prep bowl so I can be sure not to get any shell in the final dish). Cover skillet and cook until yolks are just set, about 5 minutes. Using a spoon, baste the whites of the eggs with tomato mixture, being careful not to disturb the yolk. (Jamie note: I almost always skip the basting step). Sprinkle shakshuka with feta and parsley and serve with pitas, for dipping.