[caption id="attachment_660" align="aligncenter" width="540" caption="Gluten Free, Animal Free Pad Thai."]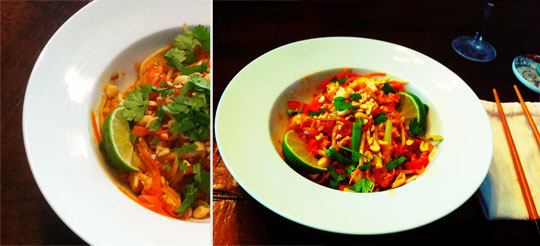 [/caption]
There is a corner of the pantry in my kitchen where ingredients go to die. Once used and quickly forgotten, they sit and wait to be cooked with another day, only to long pass their expiration date and have their flavor degrade to something south of sawdust.
That is where I found our jar of refined coconut oil hiding. Lucky for us, it stubbornly refuses to suffer the fate of its neighbors in the Corner We Do Not Speak Of. After months of neglect, it's still good as new. (As long as you don't mind it looking like a mess of rubber cement with grits floating in it.) I'll get back to the coconut oil in a bit…
Yesterday I was rifling through my stack of cookbooks on the hunt for some gluten free tapas recipes. We're throwing a tapas party for the Relevance crew in a couple of weeks, and there's at least one gluten-free guest coming.
This got me thinking about the reasons people choose a gluten-free diet — some for allergies, some for Celiac disease, and some for general health. All that to say I decided to spend a couple of weeks being more cognizant of the gluten in my diet, and cutting back intentionally to see if there is a measurable difference in how I feel or how my skin reacts.
Over the next week or two, I'll be choosing gluten-free options for lunch and dinner (and breakfast, after that hunk of coffee cake I just made is gone — darn). Tonight's dish was both vegan and gluten-free, but also completely delicious and worth making if you love Pad Thai.
Which brings me back to the refined coconut oil. It's a wonderful alternative cooking oil for high-heat applications, making it great for stir frying the tofu and vegetables in Pad Thai. Use it, love it, and don't forget about it in the back of your pantry.
Vegan Pad Thai
This recipe uses some ingredients that may seem exotic, but don't let that stop you. I've linked to a few of them on Amazon, in case your local megamart is fresh out of Mirin, but most of the ingredients really can be found in the international foods section of major grocery stores.
If you are gluten intolerant, be sure to check the labels of all of these ingredients before preparing this dish. But you should be able to find gluten-free versions of everything listed here.
This recipe was adapted from the excellent Skinny Bitch in the Kitch cookbook. Serves 3-4.
Ingredients
6 ounces rice stick noodles
¼ cup agave nectar
¼ cup mirin (Eden Foods Mirin is Gluten Free)
3 tablespoons ketchup
3 tablespoons tamari
1 ½ tablespoons lime juice
1 tablespoon Sriracha (or other chili sauce)
2 tablespoons refined coconut oil
14-16 ounces Extra-Firm tofu, cubed
½ red onion, cut into ¼-inch slices
2 cloves garlic, minced
3 scallions, halved lengthwise and cut into 2-inch pieces
2 cups bean sprouts
1 carrot, shredded (I used a vegetable peeler to do this, but a mandolin would have probably made life easier)
¼ cup chopped fresh cilantro
¼ cup chopped roasted peanuts
Lime wedges, for serving
Preparation
Set a large pot of water over high heat and bring to a boil. While you're waiting, make sure all of your ingredients are ready to go (this dish cooks up quickly).
In a small bowl, whisk together the agave, mirin, ketchup, tamari, lime juice, and sriracha. Set aside.
Heat the coconut oil in a nonstick, 12-to-14-inch wok or skillet over high heat. Put the rice noodles on to boil at the same time you start this next step. Fry the tofu for about 4 minutes, getting a little bit of browning on all sides.
Add the red onion and stir-fry for 30 seconds. Add the garlic and stir-fry another 30 seconds. (Your noodles should be about done — take them off the heat and drain them).
Add the noodles and agave mixture to the pan and stir-fry until the noodles are softened and evenly coated with sauce. Add the scallions, bean sprouts, and carrot and stir-fry until all ingredients are well-combined and heated through.
Transfer your pad thai to plates, garnish with peanuts, lime wedges, and cilantro, and serve immediately with a thimble of your favorite sake.