[caption id="attachment_121" align="aligncenter" width="540" caption="Mini munchy muffins, straight from the oven."]

[/caption]
I've had this unopened bag of wheat bran sitting on the shelf for over a month now. I picked it up at Publix when I was unsure whether the recipe I was looking to make required "wheat germ" or "wheat bran" (I bought both). Since then I've purchased my first iPhone, and now have all of my grocery lists stored in the Shopping List app; hopefully that will prevent future instances of munchy wheat product overload!
This morning I finally got the urge to turn the sawdust-looking stuff (wheat bran, that is) into something delicious and at least a little healthy. Most people would call the end result "bran muffins," but I thought the term "munchy muffins" did them justice. It's a rare find when I come across a recipe that can turn something that looks so much like a woodworker's trash pile into a moist, delicious snack I'm not ashamed to share with my coworkers.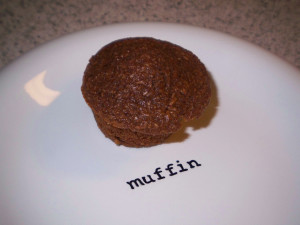 Other than wheat bran, the ingredients used here are ones I keep a ready stock of in my kitchen; if you don't have allspice or nutmeg on-hand, you should. They're delicious spices that are the key to so many special muffins, pies, jams, and lattes. You might even know someone with an allspice tree who wouldn't mind offloading some of the stuff; I ground up the allspice for this recipe using the dried berries from my parents' allspice tree (thanks, Mom).
Munchy (Bran) Muffins
This recipe came from one of my very favorite cookbooks, The Best Recipe. The chefs at America's Test Kitchen take all the guesswork out of tough recipes by trying different variations sometimes dozens of times, until they come up with the one that's just right. This one is a keeper.
Ingredients
1 ¼ cups all-purpose flour
¼ cup whole wheat flour
1 ¼ teaspoons baking powder
½ teaspoon baking soda
¾ teaspoon salt
1 ¼ teaspoons ground cinnamon
¾ teaspoon ground allspice
½ teaspoon freshly grated nutmeg
7 tablespoons unsalted butter
½ plus 2 tablespoons packed dark brown sugar
2 large organic eggs
2 ½ teaspoons vanilla extract
3 tablespoons unsulphured molasses
¼ cup sour cream
1 cup plus 3 tablespoons buttermilk*
1 ½ cups wheat bran
1 cup raisins (optional)
Preparation
Adjust oven rack to lower-middle position and heat oven to 375 degrees. Whisk flours, baking powder, baking soda, salt and spices together in medium bowl; set aside.
Cream butter with mixer on medium speed until light and fluffy; 1 to 2 minutes. Add brown sugar, increase speed to medium-high, and beat until combined and fluffy, about 1 minute longer. Add eggs one at a time, beating thoroughly before adding the next. Beat in vanilla, molasses, and sour cream until thoroughly combined and creamy, about 1 minute longer. Reduce speed to low; beat in muttermilk and half the flour mixture until combined, about 1 minute. Beat in remaining flour mixture until incorporated and slightly curdled looking, about 1 minute longer, scraping sides of bowl as necessary. Stir in bran and raisins, if using (I didn't use raisins).
Spray 12-cup muffin tin with vegetable cooking spray or coat lightly with butter. (Jamie note: I used a 24-cup mini muffin tin and Baker's Joy cooking spray). Divide batter evenly among the cups. Bake until a toothpick inserted into center withdraws cleanly or with a few moist particles adhering to it, about 25 minutes. (Jamie note: with the mini muffin tin, it only took 15 minutes of baking to get to the desired doneness). Set on wire rack to cool slightly, about 5 minutes. Remove muffins from tin and serve warm.
Serving suggestion: These are great on their own, but when I put a small pad of butter in the middle they were heavenly. I think tomorrow morning I'll try mixing some cinnamon and sugar into a room temperature knob of butter and spreading a little of that on them.
* If you don't have buttermilk, you can do what I did and make your own. Pour 1 tablespoon plus ½ teaspoon distilled white vinegar into a measuring cup. Pour milk over the vinegar up to the 1 cup mark and add 3 more tablespoons of milk to bring it up to the amount called for in this recipe. Wait at least 5 minutes before using.