[caption id="attachment_301" align="aligncenter" width="540" caption="The cover of Tupelo's Evening Menu"]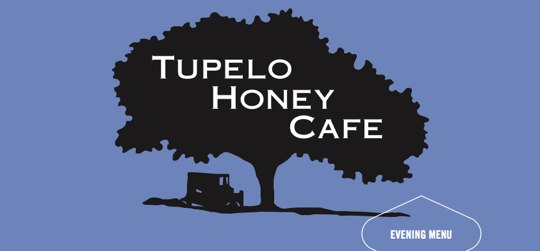 [/caption]

It's September, which means the beginning of apple season, the beginning of the end of tomato season, and the end of my grandfather's yearly visit to North Carolina. The past couple of years, Vance and I have driven to North Carolina on a Thursday night in late September, only to turn around and drive Papa back to Florida Sunday morning. This year, though, we're staying an extra day. It's just too beautiful to miss the start of Fall! While we're there, we'll visit a bit of Asheville's Foodtopian Society — namely, the Tupelo Honey Cafe.

I learned of Tupelo on TripAdvisor when we were there in July. We tried to brave their Saturday dinner rush, but chose a nearby brewpub in lieu of the 3-hour wait at Tupelo. The restaurant was unforgettable, though, and not just because I have their business card floating around in the bottom of my purse. This time around, we'll get in line early. I'm not missing out on Low Country Tuna or Cajun Skillet Catfish twice.

Yes, I've committed a portion of their menu to memory. Is that weird?

[caption id="attachment_306" align="aligncenter" width="540" caption="Shrimp and Grits, served here with some tomatoes and succotash."]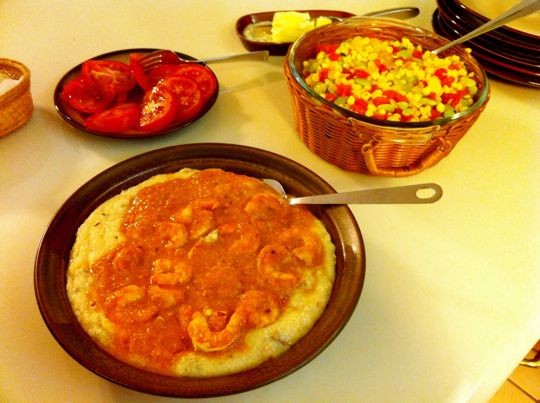 [/caption]

The inspiration for this dish came from another item on their menu: Brian's Shrimp & Grits (SHOO-Mercy style):
Brian's Shrimp & Grits
Seven large shrimp served over goat cheese grits in a spicy roasted red pepper sauce
SHOO-Mercy: A dozen shrimp with andouille sausage, caramelized onions, spinach and mushrooms
I made this during a recent trip to West Palm, so I left out some of the ingredients that would have given the dish more nutritional value, but would have had fewer family members interested in eating it! So my version has the andouille and caramelized onions, but omits the spinach and mushrooms. If you're a fan of the latter two, by all means incorporate them into your version!
Jamie's Shrimp & Grits
Serves Six. This particular dish — Brian's Jamie's Shrimp & Grits — was inspired by my time spent ogling the Tupelo Honey Cafe Menu. I've never eaten there, so I'm sure their version and mine are night and day. But this one is delicious in its own right. Serve with a green salad; you'll feel better about yourself afterward. (Haha)…
Spicy Roasted Red Pepper Sauce Ingredients
2 red bell peppers
1 garlic clove, minced
1 small yellow onion, chopped
3 chipotle peppers in adobo, roughly chopped (you won't need nearly 1 can — reserve the rest for another use)
1 teaspoon smoked hot paprika (you can use sweet instead of hot if you like a milder sauce)
¾ cup vegetable broth
Salt and pepper, to taste
Grits Ingredients
Enough grits for 6 people, prepared according to package directions
2 links andouille sausage, cooked and chopped
Small log of goat cheese
½ small yellow onion, chopped
1 tablespoon extra-virgin Olive Oil
30+ Large (Jumbo) Shrimp, peeled and deveined (we used 5 per person — use more or less to your taste)
1/3 cup of prepared sauce, recipe follows
Sauce Preparation
Before you begin, roast the peppers under the broiler, turning frequently, until charred black spots dot the exterior all over. Remove and place in a brown paper bag to cool. If your andouille still needs to be cooked, do that now, reserving the pan with the leftover fat after they're finished cooking.
Add the chopped onion to the pan you cooked the sausage in. Season with salt and pepper. Cook over medium-high heat until very soft and translucent, about 8 minutes. Add the garlic; cook an additional minute.
Move the cooked onion and garlic into a tall, narrower bowl, or ideally the container that came with your immersion blender. (If you don't have an immersion blender, a food processor or blender will work just as well — just place the ingredients in your processor work bowl or blender). Add the chipotle peppers, paprika, and vegetable broth to the rest of the ingredients; blend well, until no visible chunks are present. Taste your sauce and adjust the seasoning if you need to. Set aside.
Grits Preparation
Heat the olive oil in a skillet over medium-low heat. Add the chopped onion and cook until caramelized.
Prepare the grits according to the package directions for six people. About a minute before the grits are finished cooking, add the sausage, caramelized onion, and the log of goat cheese; stir until thoroughly incorporated. Set over a warming (or low heat) burner until you're ready to serve.
Add the sauce (recipe above) to a large skillet (you can reuse the one you caramelized the onions in if it's large enough) and bring to a low simmer. Add the shrimp to the sauce and cook until the shrimp change color to a pink hue. Make sure to flip them all over halfway through so that they cook evenly. This shouldn't take more than five minutes.
Serve shrimp with sauce over the grits in a large shallow serving bowl or individual bowls.