[caption id="attachment_167" align="aligncenter" width="540" caption="The inside of Portland's best-kept-under-bridge secret: Montage"]

[/caption]
Coming home from Portland is always hard; we lose three hours of the day with the time difference traveling back to the East Coast, and the reality of a hot summer and tough work schedule awaits us at the other end of the jetway. Leaving behind the best farmer's markets in the country and too many amazing restaurants and food carts to count isn't easy for us either. Which is why when I stepped onto the plane I resolved to spend a week or two recreating and blogging some of the recipes we tried when we were dining all over Portland.
Of course, when reality set in I realized I'd need to work an 80 hour week to catch up, so this is the first chance I've had to sit down and write. I've been busting my butt to get SocialSpark out the door (whoops, did I say the new SocialSpark is live?) which has left little room for sleep, much less cooking. I arrived home two Thursdays ago, so the memories aren't as fresh now but I'll do my best. The first in the series is for Gabe, who harassed me a bit via text message this morning regarding the lack of deliciousness on the blog of late.
[caption id="attachment_170" align="aligncenter" width="540" caption="The pasta version of this Jambalaya, which Vance ordered and devoured."]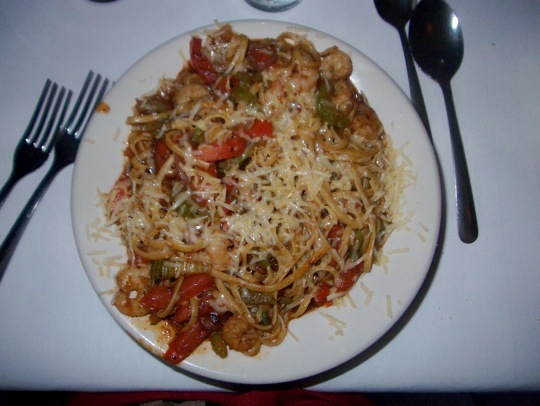 [/caption]
Happily, Gabe and his phenomenal wife Amy were with us at Montage to share the meal I've attempted to reproduce here. Montage is this quaint, quirky bistro under a bridge in the Central Eastside Industrial district of Portland. You can't get through a meal there without witnessing chefs pounding iced tea from plastic pitchers after yelling obscenities at one another from the kitchen. Everyone sits in long tables — communal style — and guzzles down wine, crawfish beignets, cheesy macaroni, and jambalaya until it's time to loosen the belt and limp out with the leftovers wrapped up in a foil masterpiece. (We ended up with two swords and a giant axe).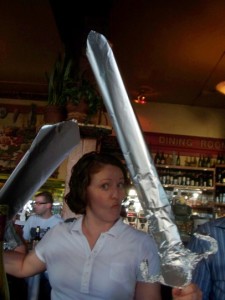 Jambalaya à la Montage
This recipe is something like the jambalaya I had that night under the bridge at Montage. It has a ton of ingredients, but it's simple and quick to make so don't let that scare you. Let me know if you love it as much as I do!
Ingredients
These quantities should make enough to serve 3-4 hungry people.
5 plum tomatoes
½ uncooked brown rice (NOT instant — average cook time should be about 50 minutes)
2 cups organic chicken stock
A bit of Extra-Virgin Olive Oil
10 uncooked jumbo shrimp, peeled and deveined
All-purpose flour, for dusting
2-3 links organic andouille sausage, sliced (I used turkey andouille)*
3 cloves of garlic, minced
1 green pepper, julienned
1 red pepper, julienned
2 stalks of celery, chopped
3 fresh okra pods, sliced (or about 1/4 cup of frozen sliced okra)
1 small spanish onion
½ tablespoon dried oregano
2 tablespoons fresh parsley
1 tablespoon smoked paprika
1 tablespoon chili powder
½ tablespoon cayenne pepper
2 tablespoons Worcestershire sauce
1 cup tomato juice
½ bunch scallions, white and green parts, chopped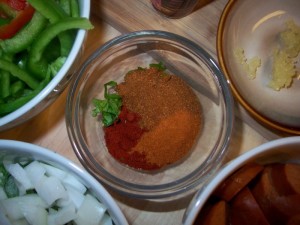 Preparation
First, peel the tomatoes. This is so much easier if you blanch them quickly in a pot of boiling water, until the skin splits. Bring a pot of unsalted water to a boil and fill a bowl with ice water nearby. Once the water boils, plop the tomatoes in and wait for the skin to split; this shouldn't take long. Remove the tomatoes with a slotted spoon or tongs and place into the bowl of ice water to stop the cooking. Peel the tomatoes, chop them, and set aside.
Cover and cook the brown rice according to the package directions, substituting equal parts chicken stock for water (use as much of the 2 cups specified here as you need). You'll want to set a timer for 5 minutes before the rice is due to finish cooking so you can finish the process with the rest of the ingredients mixed in. You can wait until the rice is about 15 minutes from doneness to begin cooking the rest of the ingredients, but make sure everything is sliced and diced so it's ready to go!
When the rice is a little more than 15 minutes from being done, coat a large, deep skillet or dutch oven with olive oil and set over high heat until it shimmers.
Dredge the shrimp in flour and add to the skillet with the andouille sausage. Lower heat and remove the shrimp after it's barely cooked (just turning pink). Add the garlic, peppers, celery, okra, and onion and cook on low heat for about 4 minutes, stirring constantly. Add all seasoning, diced tomatoes, and Worcestershire.
When the rice is about 5 minutes from being done, add it to the mixture and simmer for 2-3 minutes on low heat. Add any remaining chicken stock and tomato juice. Increase heat to medium and simmer for 5 minutes, stirring occasionally to prevent sticking. Once the rice is cooked to your liking, add the shrimp back to the mix and heat through, 2 minutes. Serve in a bowl and garnish with the chopped scallions.
* The jambalaya I had that night didn't have the sausage in it so this is optional, but delicious…
[caption id="attachment_176" align="aligncenter" width="540" caption="The finished Jambalaya, using the recipe above. Delicious and savory. Yum."]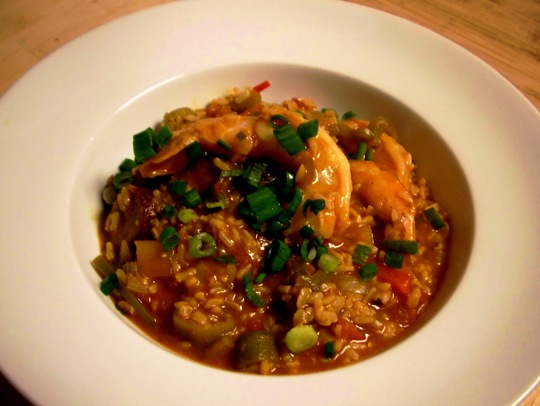 [/caption]