Hello again, Crêpes.
[caption id="attachment_629" align="aligncenter" width="540" caption="Fresh, local asparagus. Three words you'd never find in a farmer's market in Florida."]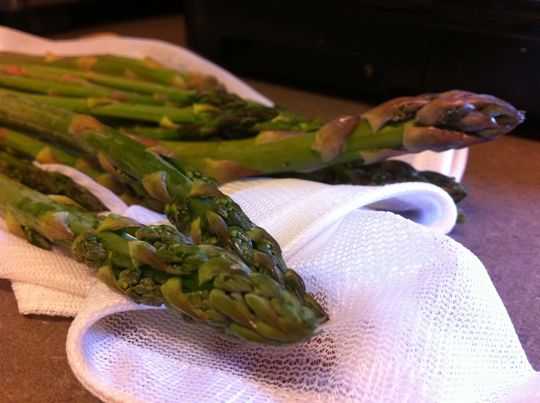 [/caption]
So, I've been away for a while. After the Hacker News résumé debacle, my tendency was to go dark, wait it out, and come up for air when it was all over.
Well, it's all over now. I left my company, packed up the house, and moved to Durham, NC. It sounds so simple written in that way, but this was one of the biggest decisions I've ever had to make, leaving behind friends and family (and Vance, temporarily) to set up life in a new place. Durham is nowhere near where we wanted to be, yet everything we were looking for in a city at the same time. Everywhere I turn there's a market selling local eggs, dairy, or produce. The weather is mild (save for the tornadoes); the house is amazing, save for the occasional lack of hot water; and the area is saturated with brilliant minds and eco-conscious hippie types. There are huge, old trees lining my drive into downtown, and birds of every size and shape singing me awake in the morning. As soon as there's a Stumptown around the block and public transit to get me there, I'd say we're exactly where we've wanted to be but didn't know it.
[caption id="attachment_630" align="aligncenter" width="300" caption="Tomato sauce in the French tradition. It fills your house with amazing smells for hours."]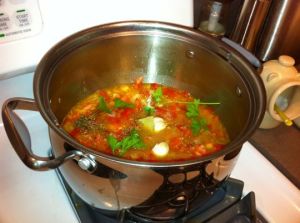 [/caption]
While Vance is wrapping up the school year back in Orlando, I've been checking out the local food scene, taking notes, and working up the motivation to return to blogging by reading through my stack of cookbooks over and over again. As with my frequent, frustrating design blocks, sometimes I just need to admire other people's work to set off a spark of inspiration in my own mind. So Friday's lunch at Rue Cler finally did me in: asparagus and chèvre crêpe, smothered in a rich, complex tomato sauce. (Can I just stop for a moment and marvel at the caliber of food you can get for eight bucks in Durham?)
[caption id="attachment_631" align="aligncenter" width="300" caption="It's a terrible photo, but I thought you should see what it looked like before I devoured it!"]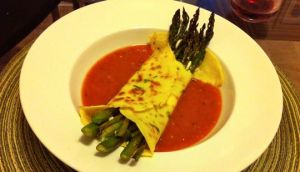 [/caption]
This dish is what I'm beginning to love about the city — simple, honest food that is unpretentious but at the same time exceptional. After I came across a sweet farmer from Hillsborough selling asparagus at the Durham Farmer's Market, I simply had to reinterpret it back at home. Next time, I'll pick up some local goat cheese, but for this go-around I was thrilled to highlight local asparagus and tomatoes in the dish. And as always, the herbs are local (from the very young but thriving herb garden right outside my front door!)
All that to say I'm still alive, still cooking, still eating… Just a little slow to get back into a routine after being knocked out of one for so long. I hope you enjoy this crêpe as much as I did!
Asparagus and Chèvre Crêpes with Tomato Sauce
This recipe will serve two, but it doubles easily (and the tomato sauce tastes even better the second day). Unfortunately, this being a French tomato sauce, it's not vegetarian friendly, but you could just as easily substitute vegetarian "bacon" and brown stock for the meaty parts.
Ingredients
For the Sauce (adapted from Mastering the Art of French Cooking)
One slice thick cut, organic bacon
¼ cup very finely diced carrots
¼ cup very finely diced onions
¼ cup very finely diced celery
3 tablespoons butter
1 tablespoon olive oil
1 ½ tablespoons all-purpose flour
1 ½ teaspoons "Better Than Bouillon" Organic Beef Base dissolved in 1 ½ cups boiling water (or any other rich beef stock)
2 lbs (4 cups) chopped, ripe red tomatoes
¼ teaspoon salt
1/8 teaspoon sugar
2 unpeeled cloves of garlic
4 parsley sprigs
½ bay leaf
¼ teaspoon thyme
1 tablespoon tomato paste
For the Crêpes
1/3 cup whole milk
3 tablespoons all-purpose flour
1 large egg
2 teaspoons canola, vegetable, or safflower oil
1 tablespoon finely chopped fresh chives
1 tablespoon finely chopped fresh basil
1 bunch of asparagus, woody ends snapped off
About 2 ounces goat cheese
Sauce Preparation
Bring a pot of water to a simmer and cook the bacon in it for 10 minutes. Transfer to a plate to cool slightly and drain. Before continuing, finely dice the bacon.
Cook the diced vegetables and bacon in the butter and olive oil over a medium-low heat for 10 minutes (don't let them brown).
Blend the flour into the bacon and vegetables and cook for three minutes more, stirring occasionally. Remove the pan from heat, add the stock, and return to heat.
Stir in the tomatoes, salt, sugar, garlic cloves, and herbs. Simmer for 1 ½ to 2 hours, skimming the surface occasionally and adding water if the sauce reduces too much.
Strain the sauce, pressing the juice out of the ingredients. (If you're lucky enough to have a food mill, it's an outstanding tool to use for this. I used the medium disc in my All-Clad Food Mill). Rinse out the pot, dry, and return the sauce to it over a medium heat. Stir in the tomato paste and taste, correcting seasoning if necessary.
Crêpe Preparation
While the sauce is busy simmering, make the crêpe batter by blending the milk, flour, egg, and oil in a blender until smooth. Add the chopped herbs and pulse a few times to combine. Chill the batter, covered, for at least 30 minutes.
About 20 minutes before you're ready to eat, toss the asparagus in some olive oil and sprinkle with salt and pepper. Place in a single layer on a roasting pan and roast at 375° for about 15 minutes, more or less depending on the thickness of the asparagus.
When the sauce is finished, keep it warm and fry up your crêpes. Stir the batter to redistribute the herbs. Place about ½ tablespoon of butter in a hot skillet over a moderately high heat. It should sizzle and melt quickly; if not, wait a bit to add your batter until the pan is hot. Briefly remove the skillet from heat and add half (about ¼ cup) of the batter. Return the skillet to the heat and cook until crêpe is just set and pale golden around the edges (10-15 seconds if your pan is the right heat). Loosen the edge of the crêpe with a heatproof plastic spatula and turn it over carefully. Cook until the underside is set, about 20 seconds more.
Remove the crêpe to a plate or cutting board. Dot with as much goat cheese as you wish and cover with half the asparagus. Spoon out about 3/4-1 cup of sauce onto a plate, roll up the crêpe and place it right on top of the sauce. (Repeat again with the second crêpe).
Serve this alone or with a simple side salad of romaine lettuce and a lemony vinaigrette.