Green Onion and Watercress Soup
[caption id="attachment_411" align="aligncenter" width="300" caption="Green Onion and Watercress Soup"]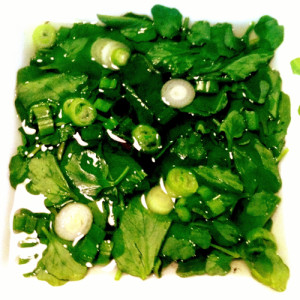 [/caption]
Last week I was working the IZEA booth at Blog World in Las Vegas; this week has been non-stop at work; I'm trying to get the house ready to sell; and our friends Bryan and Jeffrey at the Spice and Tea Exchange just ordered eight jars of my grandmother's famous Chili Sauce (it's on the stove right now). We've been busy! So I haven't found time to blog, but I can always find time to cook.
[caption id="attachment_399" align="aligncenter" width="224" caption="Me with Manouschka Guerrier (Private Chefs of Beverly Hills) at the Jenn-Air booth at Blog World"]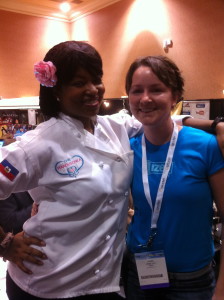 [/caption]
This was only the second week this month where we've been home on Thursday, so I finally scored another Season's Pick box from the local co-op. I was thrilled to see a bunch of watercress nestled into the box next to the sweet potatoes and a small whole grain boule. I have an incredibly fast recipe for watercress soup that we throw together in no time at all. Perfect for the busy pace of our lives recently.

Watercress is one of those "superfoods" that just leaves you feeling cleaner after you eat it, and also claims a number of other health benefits:
By weight, Watercress has more calcium than milk, more vitamin C than an orange and more absorbable Iron than Spinach (spinach is loaded with Oxlactic acid, which blocks the natural absorption of iron). A single 4 ounce bunch has more than a full days RDA for Potassium.
— watercress.com
This one's simple, and it'll make you look like a rockstar chef. If you've never cooked with watercress, or you're just looking for an excuse to make sexy croutons, give it a go.
Green Onion and Watercress Soup
This recipe is from marthastewart.com. Original description: This soup can be made easily in the workplace. Pack the bouillon cube, scallions, and watercress in an airtight container; stir in hot water when ready to serve. The croutons can be made ahead and packed separately. Serves 2.
Ingredients
1 slice multigrain bread, cut into 1/2-inch cubes
1/2 ounce (about 1/2 cup) grated parmesan cheese (original recipe called for Gruyere)
1 cube low-sodium vegetable bouillon
2 scallions, finely chopped
1 cup (2 ounces) coarsely chopped watercress, toughest stems discarded
1/4 teaspoon coarse salt
Preparation
Preheat oven to 375 degrees. Toss bread cubes with cheese on a rimmed baking sheet. Bake until cheese has melted and bread is lightly crisp, about 10 minutes. Let cool.
Bring 2 cups water to a boil. Divide bouillon cube, scallions, watercress, and salt between 2 mugs. Pour 1 cup boiling water into each; stir to dissolve bouillon. Serve immediately with cheese croutons.