[caption id="attachment_356" align="aligncenter" width="540" caption="Old-fashioned barrels of candy at the Mast General Store"]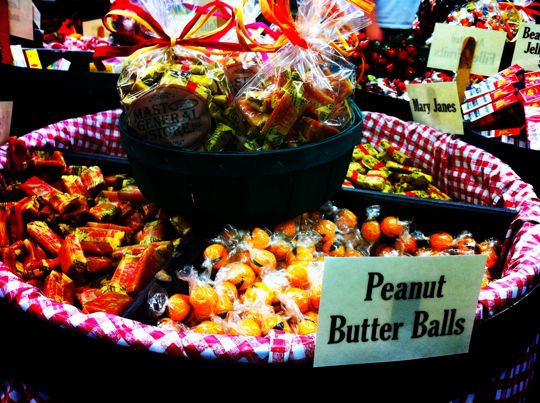 [/caption]
Today was infinitely better than yesterday. I consider myself a happy wanderer, but only under certain very controlled, planned, structured, sub-eighty-degree scenarios. So it seems.
Yesterday it was hot, and we wandered aimlessly without much purpose somewhere on the edge of downtown Asheville until the heat got the best of me and we found our way into a local brewpub to cool off. When dinner rolled around, I ordered the wrong thing off the menu and drove home in a fog of brussels-sprouts-induced regret.
Today was different, thanks in no small part to the nudging of my husband, who insisted on making a plan for today's journey into the city. The morning started off with a stop at the Western North Carolina Farmer's Market on the way into town. I was amazed at the bushels upon bushels of farm fresh tomatoes, potatoes, half-runner beans, apples, more apples, and summer squash that were piled high, building after building. While it lacked the gourmet quality of the Portland Farmer's Market, the WNC Farmer's Market made up for it with the sheer quantity of local produce on display.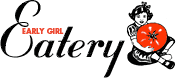 After picking up half a peck of apples and a jar of local blackberry jam, we ventured on to our breakfast destination: the Early Girl Eatery.

[caption id="attachment_362" align="aligncenter" width="300" caption="Breakfast at Early Girl"]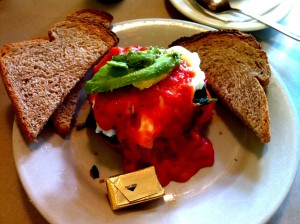 [/caption]

I'm not sure I've enjoyed breakfast that much since Mother's Bistro. I ordered the "Early Girl Benny," grit cakes topped with tomato, spinach, poached eggs, tomato gravy and avocado, served with toast. Tomato gravy? I'm not sure what it is, but I'll be attempting to recreate it when I get back to Orlando.

We were due for a walk after a meal like that, and a stop off at Malaprop's Bookstore proved to be the perfect place to wander around. I was more than a little tempted to pick up a signed copy of a philosophy book on animals (Some We Love, Some We Hate, Some We Eat: Why It's So Hard to Think Straight About Animals) but I resisted, since I have so many unread books waiting for my attention at home. It's on the wish list, though. (Ahem).

[caption id="attachment_360" align="aligncenter" width="300" caption="Double Decker Coffee Company"]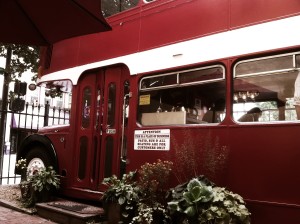 [/caption]

We were actually behind schedule, so we had to skip a visit to Asheville's River Arts District. Instead, we stopped for an icy latte at Double D's Coffee Company, a place I've wanted to go since I took this photo on a retreat in 2006. It's definitely one I'd make an excuse to revisit, especially when fall is truly in full-swing and the second level of the bus is tolerably cool.

[caption id="attachment_361" align="aligncenter" width="300" caption="The barista at Double D's"]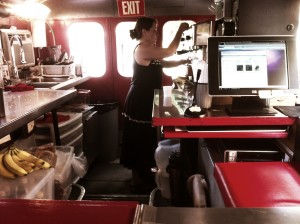 [/caption]

Our afternoon was spent in the back of the Lexington Avenue Brewery, watching Bag It (part of the Asheville Food & Environmental Film Festival). We've drastically cut back on our consumption of "single-use disposable" plastic, but the movie really made me think about how much more I could be doing to reduce my exposure to plastics without sacrificing too many of those precious creature comforts. (Ironically, as we were leaving the theater, there were people drinking beer from plastic cups. But hey, maybe they'll be recycled…)

Before dinner, we stumbled into the new Woolworth Walk arts and crafts emporium, which features the work of over 150 artists from Asheville and the surrounding areas. I was tempted to take home this beverage urn, but figured it might not… erm… match the toaster.

[caption id="attachment_363" align="aligncenter" width="224" caption="Give me one in every color."]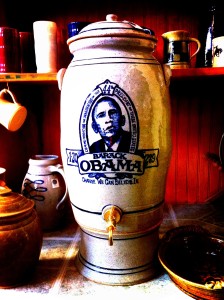 [/caption]

Tonight's dinner was at Table. I enjoyed a Pinot Noir from the Willamette Valley (our other favorite region of the US) with a delicious, perfectly-sized portion of locally-foraged wild mushroom bolognese. It was another one of those risks I take when visiting a great restaurant (order something that I wouldn't typically be excited about and hope to be blown away by some magic in the kitchen). Unlike last night, this time it paid off.

This morning, while I was in the entry of Early Girl, I saw a thin, bearded man come in with a ten-pound bag of mushrooms and get turned away; I like to think maybe I was eating his mushrooms tonight. Either way, they were outstanding alongside a simple sauce of olive oil, cheese, and carrots.

[caption id="attachment_364" align="aligncenter" width="300" caption="Wild Mushroom Bolognese"]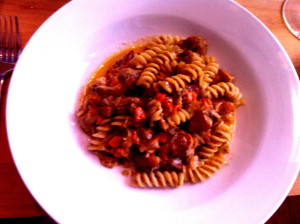 [/caption]

The most amazing part? I don't much care for mushrooms. So when I eat a meal like this I'm reminded about how much the right recipe and technique can do for an ingredient you wouldn't normally consider ordering.

We capped off the evening with a wander over to Bouchon. Les Crêpes Arlequin and a champagne float were the perfect end to a wonderful day. Next time, we're going to need to mix some hiking in with all that indulgence. Whew.

[caption id="attachment_359" align="aligncenter" width="300" caption="Tastes like Crêpe ;)"]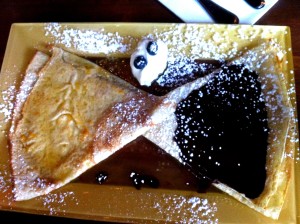 [/caption]