[caption id="attachment_62" align="aligncenter" width="540" caption="Double Chocolate Tartine Cookies, ready to go in the oven."]

[/caption]
Nearly every Sunday I get the itch to bake something deadly, and this week was no exception. Around 8:30 PM I decided it was time to bake something so loaded with chocolate it would melt my face off. And I believe I've done it.
I also didn't want readers of this blog to be under the illusion that everything I post here is going to be the healthiest thing they've ever eaten. A little indulgence never hurt anyone; a lot, on the other hand, has. So resist the urge to eat the whole bowl of this magical dough in one sitting.
[caption id="attachment_58" align="aligncenter" width="540" caption="Always use the finest chocolate you can get your hands on."]

[/caption]
You'll need to construct a double boiler for this recipe if you don't already have one, but don't let that scare you. Just set a large stainless steel bowl over a small pot of simmering water on the stove. Dump the chocolate in, stir constantly, and wait for it to melt and shine like Turtle Wax on a bowling ball.
[caption id="attachment_60" align="aligncenter" width="540" caption="As soon as there are no lumps, remove the chocolate from the heat."]

[/caption]
The final batter is a bit like chocolate frosting (both in flavor and in texture)! You'll want to eat the whole bowl, but save some for the oven. They're even richer when they're warm and melty after only seven minutes of baking.
[caption id="attachment_61" align="aligncenter" width="540" caption="The finished cookie batter."]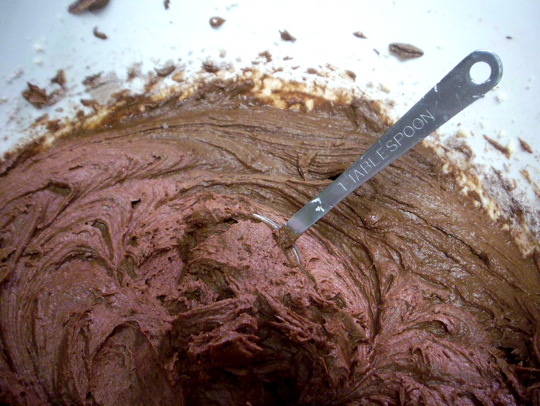 [/caption]
Do you have any other favorite heavenly chocolate recipes? After you've tried this one, let me know what you think!
Deluxe Double-Chocolate Cookies
Adapted from Scharffen Berger's Deluxe Double-Chocolate Cookies, recipe courtesy of the Tartine bakery in San Francisco.
Ingredients
8 ounces SCHARFFEN BERGER 70% Cacao Bittersweet Chocolate
1 cup plus 1 tablespoon all-purpose organic flour
½ cup plus 2 tablespoons organic Cocoa Powder
2 teaspoons baking powder
½ cup unsalted organic butter at room temperature
1 cup plus 2 tablespoons organic sugar
2 large organic eggs
¼ teaspoon salt
1 teaspoon vanilla extract
1/3 cup organic whole milk
Preparation
Preheat the oven to 350°. While the oven is preheating, line 2-3 baking sheets with parchment paper. (Jamie note: You can also use Silpat here. To make the parchment easier to deal with, I spray a little nonstick cooking spray directly onto the sheet pan and use that to prevent the parchment from moving around.)
Chop your chocolate up into small pieces and melt it in the top of a double boiler (or in a stainless steel bowl set over simmering water — be sure that the water does not touch the bottom of the bowl). Once the chocolate is melted, remove it from the heat.
In a smallish bowl, stir together all of the baking powder, flour, and cocoa powder. Set aside. Using a stand mixer with the paddle attachment or an electric hand mixer, beat the butter on medium-high speed until creamy. Slowly add the sugar and mix until the mixture is completely smooth and soft. Add the eggs, one at a time, mixing well after each addition. Scrape the sides of the bowl as needed. Beat in the salt and the vanilla, add the melted chocolate, and beat on low speed until it's all incorporated. Add the milk and beat again, until combined. Add the flour mixture and beat again until it comes together in a gooey mass similar to chocolate frosting.
Using a rounded tablespoon measure, scoop heaping tablespoons and drop about an inch apart on the prepared baking sheets. (Jamie note: I found a small pointed cheese knife to be very helpful in getting the batter out of the spoon). Bake the cookies until they are just barely firm on top and very soft on the bottom, about 7-8 minutes (they will get firmer as they cool). Transfer to a wire rack and cool completely (sneak a couple while they're still warm). They will keep for several days in an airtight container.