Traditions
[caption id="attachment_486" align="aligncenter" width="540" caption="Photo: Jana Quigley"]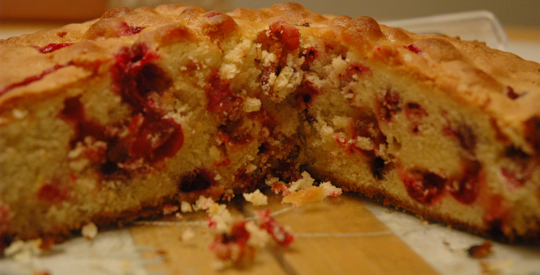 [/caption]
It's Thanksgiving season in the Kite house, which has my head filled with delicious ideas about what to serve at our fifth annual Give Thanks For Friends (GTFF) celebration. If we had more space in our kitchen I'm sure I'd have over 20 dishes on the menu already, but unfortunately it'll be closer to 10 (or 12…) this year.
GTFF is a tradition for us — a tradition which started with the idea that my college friends who weren't going home for Thanksgiving should have a place to go to get a real home-cooked meal. It started before we were even dating and has continued right on into marriage. We've had everywhere from 17 to 34 people show up, and there's never a shortage of outstanding holiday classics to go around.
The year that started it all actually started with a bit of a turkey nightmare. As I was walking down the stairs I heard the calm, collected voice of my friend Jenn telling me that the oven was on fire. The fire started about an hour into cooking the bird, and the best thing we could think of to put it out was a handful of flour tossed blindly into the flames. Well, of course a little smokey flavor and crispy crust never hurt a turkey and it was the best one we've ever served.
I'm still searching for the perfect turkey recipe for our celebration next week, but there's one thing I know for sure will be on the menu: Cranberry *Expletive* Cake.
Now I know, you're wondering where the expletive came from in the Cranberry Expletive Cake. All I can say is you'll know it when you bite into it. This cake warrants a little saucy language.
[caption id="attachment_494" align="aligncenter" width="540" caption="A very special 2x strength Vanilla we get from our local farmer's market."]

[/caption]
Serve this all cranberry season long; you won't get tired of it.
Cranberry *Expletive* Cake
Nothing says it better than the site where I originally discovered this happy cake: "This cake harnesses the power of cranberries in order to kick ass. Look upon this cake in all its neon red-streaked cranberry glory and weep for joy."
Makes 1 9x13" or 1 10" springform cake.
Ingredients
3 eggs
2 cups sugar
3/4 cup unsalted butter, slightly softened and cut into chunks
1 teaspoon vanilla
1 teaspoon of salt
2 tablespoons of milk
2 cups flour
2 1/2 cups cranberries (1 bag)
Preparation
Preheat your oven to 350° F. Grease your pan of choice with your favorite baking spray or a slathering of butter — either a 9x13 or 10-inch springform pan (I like the latter).
Beat the eggs and sugar together for 5-7 minutes until it's died and gone to heaven. What starts out looking like wet sand will smooth and inflate into a creamy, ribbony bowl of joy.
Add the chunks of softened butter and vanilla extract and beat for another 2 minutes. Add the milk and salt and go for another 30 seconds.
Switch from your mixer to a beefy spoon; stir in the flour, making sure to scrape up all of the flour and thoroughly incorporate. Fold in the cranberries.
Pour the batter into your prepared pan and bake, using the time below that matches your pan:
45-50 minutes for a 9x13 pan
A little over an hour for the springform pan
15 minutes before the cake is finished baking, check and see if the top is beginning to brown; if it is, cover it loosely with tinfoil to prevent it from losing that pretty, cranberry studded top.
Move the pan to a wire rack after a toothpick inserted into the center comes out without any batter goo sticking to it. Cool completely before serving.