Cape Cod Chopped Salad
[caption id="attachment_311" align="aligncenter" width="540" caption="Ingredients all measured and ready to assemble the salad at the last minute."]

[/caption]
When Vance and I were deciding whether or not to register for fine china before our wedding, I resolved not to do it unless we were going to actually use it. So many people register for china because it's the thing to do (or it's strongly encouraged by the store, who enjoys a pretty high mark-up on the stuff). But I was determined to be the exception to that rule.
So we started a tradition over two years ago and really haven't taken a break from it since: Fancy Feast. Yes, I know the name evokes images of brown cat food in a can, but we used the name once and it stuck so I'm okay with it. About a year ago we started inviting other couples to share in the tradition, which is wonderful because occasionally we get to just bring the wine and ourselves and let someone else do all the cooking!
[caption id="attachment_312" align="aligncenter" width="540" caption="A bit of added saltiness and flavor for the salad."]

[/caption]
This month's Feast was a celebration of the end of summer (good riddance!), with apples, arugula, pork, and sweet potatoes on the menu. We featured some incredible local veg from the Homegrown Cooperative alongside Certified Humane pork tenderloin and other staple items from the grocer across the street. Good ingredients are the cornerstone of any gourmet meal, and we go all out for our Feasts.
After all, how often do we take the time to lovingly prepare a multi-course meal where every source ingredient has been added by hand to the final product? In a world where convenience and discount prices tend to be the most important influencers of our food-buying decisions, it's becoming more and more rare. This once-a-month tradition is such a treat for us; as much work as it is, we still love doing it. And the ability to share a long meal and good conversation with friends without worrying who's going to pick up the tab is the icing on the cake.
[caption id="attachment_313" align="aligncenter" width="300" caption="I didn't get a chance to take a photo of this one before it got eaten up. So this is the best I could do!"]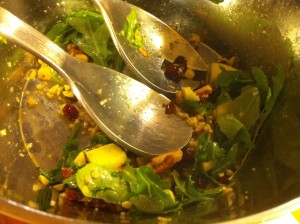 [/caption]
Enough romanticizing about our most-loved tradition, though. You're here for the recipes, right? Today I'll share the first course from September's Fancy Feast with you: Ina Garten's Cape Cod Chopped Salad.
Cape Cod Chopped Salad
I was pleasantly surprised by this recipe, because normally I'm not a fan of strong orange flavors. But the peppery flavor of arugula definitely cut through the sweetness of the orange for a surprising salad combination worthy of opening this month's Fancy Feast.
You could just as easily make this vegetarian by using Veggie Bacon or even tempeh sauteed in some coconut oil and tarmari — it's really there for the crunch and umami.
Salad Ingredients
8 ounces thick-cut bacon, such as Niman Ranch
8 ounces baby arugula
1 large Granny Smith apple, peeled and diced
½ cup toasted walnut halves, coarsely chopped
½ cup dried cranberries
6 ounces blue cheese, such as Roquefort, crumbled
Dressing Ingredients
3 tablespoons good apple cider vinegar
1 teaspoon grated orange zest
2 tablespoons freshly squeezed orange juice
2 ½ teaspoons Dijon mustard
2 tablespoons pure maple syrup
Kosher salt
½ teaspoon freshly ground black pepper
2/3 cup good olive oil
Preparation
Note: The preparation steps have been slightly modified from the original recipe. Personally I think this way is easier!
Spread the bacon out in a single layer on a large griddle pan or heavy skillet over medium-high heat. (You may need to do this in two batches). Fry until nice and crispy on both sides, flipping as needed. Set aside to cool.
In a large bowl, toss together the arugula, apple, walnuts, cranberries, and blue cheese.
For the dressing, whisk together the vinegar, orange zest, orange juice, mustard, maple syrup, 1 ½ teaspoons salt, and the pepper in a bowl. Slowly whisk in the olive oil.
Chop the bacon in large pieces and add it to the salad. Toss the salad with just enough dressing to moisten. Sprinkle with ½ teaspoon salt and toss well. Serve immediately.