[caption id="attachment_433" align="aligncenter" width="540" caption="The only style of graffiti that makes me smile. (Photo: Vance Kite)"]

[/caption]


Wherever you are in America, there are terrific places near enough for a short road trip to a weekend away. And it's so healthy to occasionally push yourself out of the normal routine, to remind yourself what's truly important in life: God, family, food. (You had to see that one coming).

As much as I know it's important to get away, it's good to have someone here to actually force the issue. I'm going around life's merry-go-round at a dizzying speed; Vance pushes the big red button and says, "Get OFF — we're going to Georgia."

[caption id="attachment_429" align="aligncenter" width="540" caption="The most adorable baby slippers from Paris Market. I'll have to ask Vance's grandmother to make us these some day."]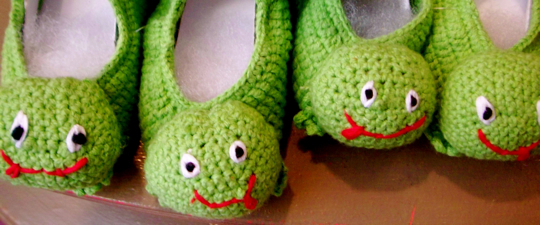 [/caption]

So to Georgia we went — Savannah specifically — leaving our neurotic but lovable "puppy" in the care of some dear friends (who also could use a weekend away). We arrived five hours later at an artsy cafe somewhere in Downtown, although I can't say exactly where it was since the only concern I had was downing a chocolate cookie the second I walked through the door.
Soho South Cafe
Based on some Yelp recommendations, we had chosen Soho South Cafe as the first stop on our whirlwind tour of the "hostess city." I might have mistaken the place for a quirky art gallery gift shop, but it didn't take long for the chocolate chip cookies piled high in glass jars to start singing the Call of the Sirens. We sat on a creaky bench happily munching one of the dense cookies until the waitress seated us. It was nearly 2 o'clock in the afternoon and there was still a wait at this place. Albeit a happy wait; there were plenty of cookbooks and art pieces to keep us occupied.

The wait turned out to be worth it in the end. I downed their signature Crab Cake Sandwich in the span of a very lady-like two minutes; Vance took down a grilled cheese and tomato soup (amazing, smoky, delicious cheese combination BTW) in about the same amount of time. My crab cake was outstanding on its own, but paired with a toasty challah roll and some Russian dressing it was over the top.

[caption id="attachment_436" align="aligncenter" width="540" caption="The quirky atmosphere and food at Soho South Cafe"]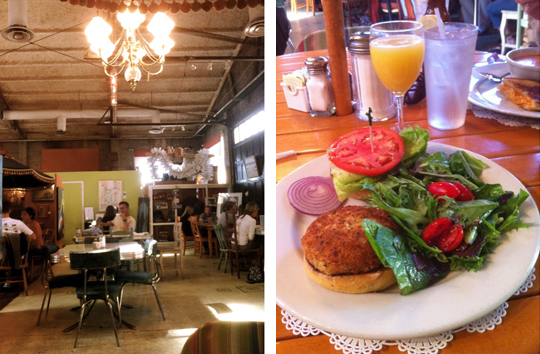 [/caption]

After a short walk, it was time to head over to the historic district, to the Savannah Bed & Breakfast Inn. The Inn does a "manager's special" deal, where you take whatever room is left over at a reduced rate, and they really put us up in a nice one. At about $129 a night, the price is right.
Cha Bella
After a brief respite in our lovely room, we walked in the general direction of dinner. We stopped by some favorites from our previous trip to Savannah: shopSCAD, Nourish, and Paris Market and Brocante. Finally, we ended up on the edge of downtown, at Cha-Bella.

[caption id="attachment_422" align="aligncenter" width="540" caption="Our loot from Nourish; Vance being ridiculous at the Paris Market and Brocante."]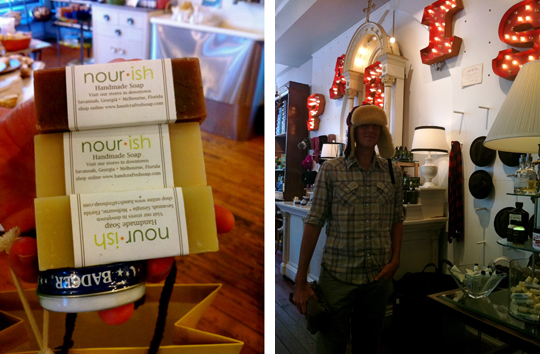 [/caption]

Cha Bella has a commitment to local, sustainable ingredients, which is the quality that immediately drew us to the place. Each ingredient on the menu was chosen specifically with the season and region in mind; you can point to anything on your plate and your waiter will be able to tell you what farm it came from, or which section of the coast it was brought in from.

I pulled my usual "order something you'd normally hate" stunt, and this time it was thoroughly enjoyable. The soup special featured local collard greens — an ingredient I usually eat around rather than eat. But I could have licked the bowl clean it was so delicious and satisfying. And the ingredients were so simple I will definitely try my hand at recreating it next time collards show up in our Season's Pick box. (And they will. Those sneaky buggers.)

[caption id="attachment_425" align="aligncenter" width="540" caption="Vance's Tilefish and Sweet Potato Special at Cha Bella"]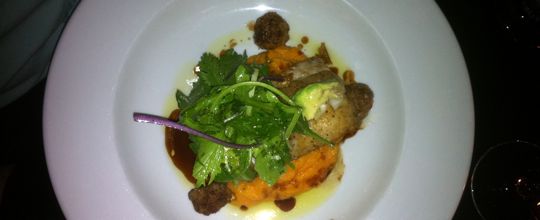 [/caption]

Vance's plate was filled with a veritable kitchen sink of locally sourced ingredients — tilefish with a veal demi glace on top of savory sweet potatoes, topped off with an arugula-cilantro salad and lime vinaigrette. Oh, and there were homemade sausage meatballs floating in the lovely broth.

I went with a more familiar plate of grouper with a corn succotash in a mild broth. It was delicious, but couldn't compare to vance's tilefish. Tile? Mmmm tile.

[caption id="attachment_426" align="aligncenter" width="540" caption="The patio at Cha Bella is a warm and inviting atmosphere in which to enjoy their exceptional fare."]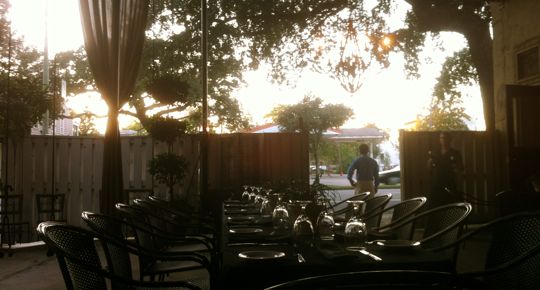 [/caption]

If you're headed to Savannah, I'd highly urge you to spend an evening at Cha Bella. And if the weather's nice, treat yourself to a seat on their handsomely decorated patio. They've turned what looked like an old loading dock into a charming, comfortable eating and drinking space you could spend an entire evening in without recognizing the passage of time.
Circa 1875
If you're not ready to turn in after dinner and drinks at Cha Bella, you might follow our adventure to Circa 1875. The self-described 19th century atmosphere provided a welcome shelter from the halloween festivities that were starting up in bars all around downtown. That's not to say there weren't bartenders in costumes at this gastropub; I was served a gin and tonic by the beautiful Dolly Parton.
If you're headed to Circa with someone special, try to find a seat in the "nook" — that is, if you want to hear what they're saying without having them shout HOW EXCELLENT THAT WHISKEY SOUR IS.
To be continued…